Posted on 24 Feb 08:56 am
Awaking from the turbulent dream of international travel, the rough ministrations of an Altalia 747 spits me out, punch drunk, jet lagged, into a strange country where everyone is skinny and dresses very well.
Must be Italy.
One sleep in a hotel bed, wake, one cup of tremendous Italian coffee (taste, not size) and I look out the window, to see this—


(this is a panorama, click on it for the big version)
This is no dream. Vinyards, mountains, gorgeous outdoor ice. The facility that Enrico Fabris calls home. I am living a blessed life.
In a few hours, am skating with Dutch, Canadians, Australians, Easy laps & a few accels. My hotel is the building on the hill to the upper right.
Past the flags getting ready for the upcoming races. Feeling great, all those hours at the rink this year. It feels worth it right now.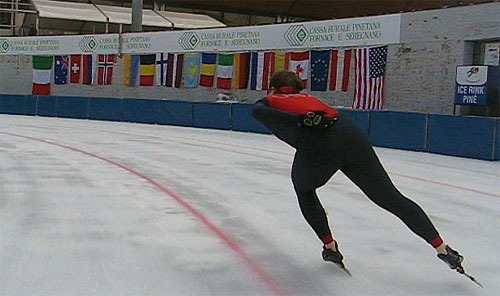 I will race my heart out, and have an outside chance at the podium. But today, the skating was so perfect, I almost don't care. It is that good.
Here is a YouTube… ugh… Jet lag sucks, I need sleep.
6 Comments »
Filed under: on the road