Posted on 12 Feb 11:10 am
Even though Travis Jayner trains in Salt Lake City, I really got to know him in Mexico City during a speedskating exhibition we were both part of.
I wrote about that very unusual trip here, here, here, here, and here. It was fitting that I really got to know Travis in such an unique place for speedskating, this is because Travis is an unusual guy; in person he is deeply thoughtful, sincere & funny.
You would never suspect that this gentle fellow is a world-class athlete in a very aggressive, dangerous sport like short track.
Welcome to the Blog Travis!
Thank you Andrew. It is a pleasure.
1. Your parents were out hiking with your brother, and were stalked by a big angry daddy moose out on the trail (visual evidence below). How is having ambitions for the Olympics like stalking, or being stalked by, something so huge?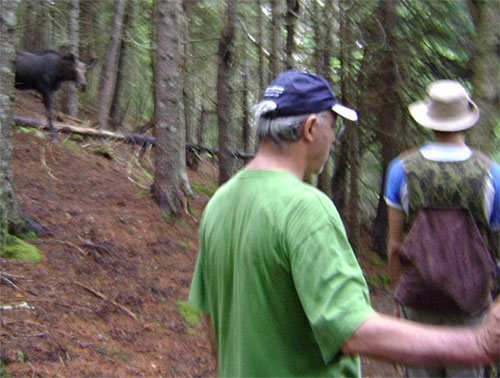 Well, that's an interesting way of looking at it and I would have to agree with you, having ambitions of the Olympics is like chasing or stalking something huge.

The Olympics is the competition of competitions for amateur athletes. The competition is so big that sometimes it doesn't seem real, it seems like qualifying for the Olympics can only happen in dreams.
2. One thing I admire about short trackers is how they deal with the pressure, uncertainty, and danger of the sport. How have you learned to cope with it over the years & adjust your mindset to give the best chances on race day?
As a short track skater I know the dangers are there but I also try to focus on what I can control. Focus on the task at hand and your mind will keep from wandering in to the "what ifs" of short track.
3. You are clearly having a career year, what was the Olympic trials experience like for you?
The Olympic trials were the most mentally challenging/exhausting thing I have done to date. Every individual race seemed like an entire competition and we raced each distance twice and raced 2 time trials so it felt like a years worth of competitions condensed in to one week.
4. I love the t-shirt your supporters have made. I do believe you are dead serious about this.
I love this shirt too. For me this shirt is not just about skating, it is about life.
5. Send me a photo that feels like "you" to you. Something that speaks to this time in your life. One on the ice, and one off.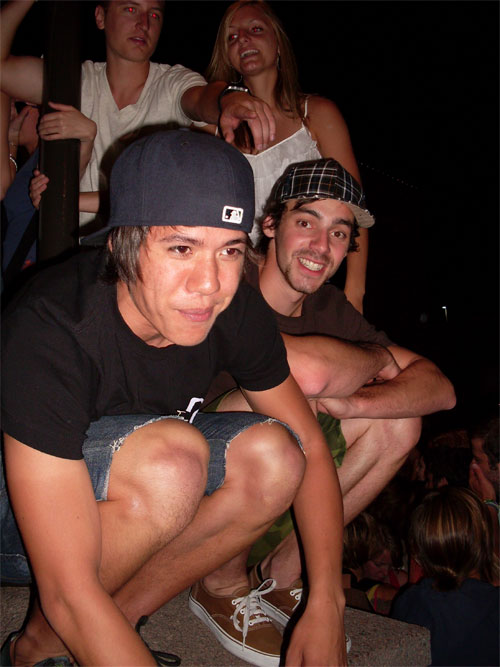 6. Tell us something surprising about yourself that those of us who know you through skating would never have suspected:
I once worked a summer job at Dairy Queen, and the summer after that I drove a forklift in the shipping department at Armstrong World Industries. Both were great summer jobs.
7. How do you stay mentally strong and physically ready, during grueling all-day short track meets.
I just take things one race at a time and try never to get ahead of myself.
8. Your father was a short track skater, and was US & North American champion in 50's & 60's. In some alternate universe, imagine you & your father, both at your best, skating a relay together. Would it be more awesome to get a push from your dad to set up your race-winning pass, or would you rather give your dad that winning push & watch him win the race?
Travis Jayner: What a great question. I never had the chance to see my father race when he was at his best but from the stories I have heard about his ability to pass at the end of races, even when it looked like there was no space for him to make a pass, it would be my pleasure to give my father that winning push and watch him cross the line first.
Jack Jayner: Compared to my lifetime-best of 40.1 sec. for the 440 yard [1/4 mile], Travis is going about 17% faster in the 500 meter [546.8 yard] today. Your anchorman is your faster man so, from that view, Travis brings 'er home.

Also, he's better-spoken, better-looking, and more empathetic than me, and so is worth more in the endorsement market – which helps keep the family afloat despite corporate CEOs best attempts to 'Titanic' us all. Score two for Travis.

Then there's the practical matter: it wouldn't be aesthetic, or sanitary in a public place, to have a lightening bolt splat into a chunkasaurous with two laps to go. But if over-the-top ego wins it, I get the honor! Place your bets, and no fair bribing the coaches.
This photo by Tony Bernato, shows Jack Jayner in the white sweater and black gloves making an inside pass to win the Junior Boys 220 yard final at the 9th Annual Winter Ice Carnival, Wollman Memorial Ice Skating Rink in Central Park, New York City. January 16, 1960.
Junior boys were 12, 13 and 14 years old back then. The racing course was called the "safety track" - it was 110 yards long, parallelogram-shaped and had 4 blocks. There are eight racers in this 2 lap final. Not much protective gear back then.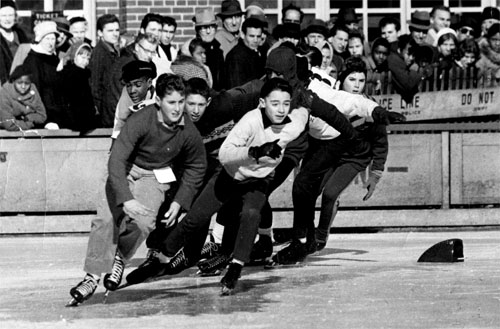 9. As part of the US national team, you have lived in Marquette, Colorado Springs, and now Salt Lake. You are often on long, exhausting road trips to races. Do you ever feel like a skating nomad? What is home?
I really enjoy traveling and I feel very honored to have had the opportunity to race and compete in so many foreign countries. Of course, when you are on the road racing for a couple weeks or a month it is nice to return home.

Home for me is in 2 places. Here in Salt Lake City, where I live, spend the majority of my time and train to be the best short track speed skater possible.

Home is also where I grew up in New Brunswick. A lot, not all, of who I am as a person came during the years I lived in NB so, a little bit of "Home" will always be there.
10. Speedskating can be a physically, technically and emotionally brutal sport, what do you find really hard & have to work on all the time?
All three.

Short track is amazing for these very aspects you mention. You have to be strong in all three.

You need to be physically strong to be able to compete in the amount of races we compete in during a competition.

You also have to be physically strong to be able to keep technique together so that you are being as efficient as possible and at the same time keeping your mind and emotions in check.

There are a lot of races in short track, you need to keep your emotions pretty even and not like a rollercoaster with lots of ups and downs.
11. What is really great about right now, what is really hard?
Opportunity and Expectations. The opportunity I have is great. I am going to represent the greatest country in the world at the Winter Olympics and I am expected to win.

It is great to be in the moment I am in right now, I am really living the dream you could say. I have pushed so much to get to this point in my life and I am enjoying every minute of it.
12. Name 3 athletes that you admire, and why.
Roger Federer, Jon Olsson and Shani Davis. All three are great champions.

I admire Federer for a few of reasons. One is his determination to win. He seems unstoppable at times. He seems to play the game of Tennis smarter then anyone else. I also admire the way he improved himself mentally.

He used to have a very poor attitude and get frustrated by his own play when he was coming up in the tennis ranks. It wasn't until he got control of his emotions that he started to win major championships.

Jon Olsson is a professional freestyle skier. I admire his creativity on the slopes, his lifestyle and his business savvy.

Jon always seems to be having fun when he is skiing and I think that is what makes him great. I also love the art and creativity in skiing. Pushing your body physically while being artistic at the same time. Awesome!

Last but not least, I admire Shani Davis.

Shani has changed the way Long track skaters skate and train. He is smart, he has the best eye for technique in the world and he does it all on his own. He doesn't have a coach. He has many people who help him but when it comes to training he does what he thinks he needs when he thinks he needs it.

He is independent and self-reliant. In terms of results, Shani is as close to Eric Heiden as we will ever see. He can do it all and he has done it all. He is amazing and he is one of the most caring and genuine people I have ever met.
13. You are skating the 1000m and the relay at the games. Your body has become ready for this from a lifetime of effort. How are you training your mind to be ready?
I am trying to see these races at the games as races anywhere else. Short track is short track whether it is the Olympics or a local competition.
14. No elite speedskater steps to the starting line alone, so many help along the way. Here is your chance to say thanks to those who have been there for you:
The coaches of the Riverview Speed Skating Club who got me started.
The Galliot/Black household
Kevin Artichuk
The Montreal International Speed Skating Club
My friends from Riverview and Montreal who have encouraged me all along
The Bedfords
The Midland Speed Skating Club
My current coaches and teammates, impossible without all of you.
Steve Blick at Oakley
Randy Olshen at H2O Overdrive/Innovative Health Solutions
And, of course, my family
Haiku Speed round.
1. You are a painter as well as a skater, here is a good place for some of your work: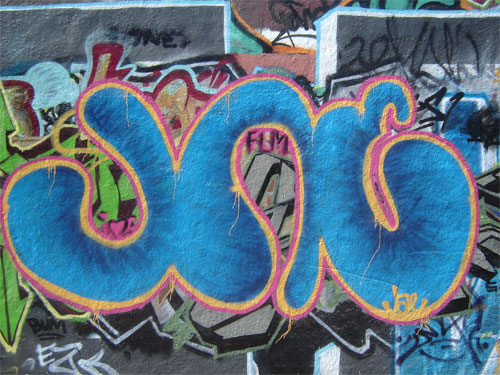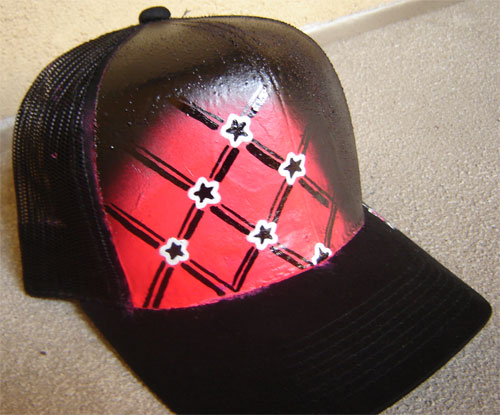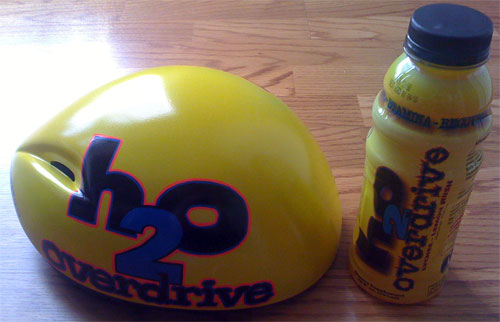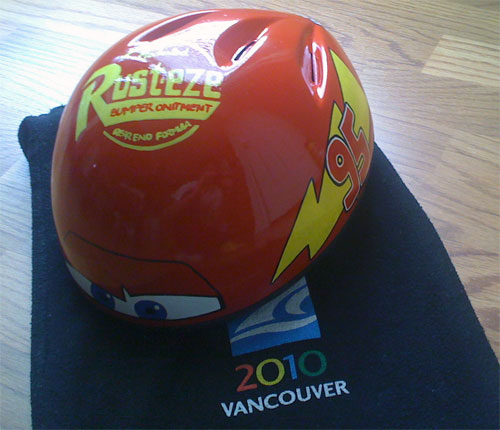 2. What is your favorite ice workout ST workout, that is a regular part of your training diet.
I love it all and in short track I think you have to.
3. Who are the 3 speedskaters you would pick to help pack a U-haul with, and share pizza & beer with afterwards.
Alex Izykowski, Ryan Bedford and J.P. Kepka
4. A quote that gets you fired up:


from Lance Armstrong
5. Movie you never get tired of seeing?

Lost in Translation.
6. What was the best Halloween costume you ever had as a kid?
I was "King Travis" one year with a homemade metal crown.
7. Name a really expensive habit you wish you could afford?
Cars.
8. When wandering past a Barnes & Noble endless magazine rack, what ones do you reach for and flip through?
Freeskier or Powder
9. Most full time athlete struggles with injuries, what have been your weak spots?
If I have any "weak spots" they would have to be my hips. They just seem to be tighter then a speed skater would normally want their hips to be.
10. If you could travel through a time-tunnel and give your teenage self a few words of sage advice, what would it be?
Patience Travis, Patience.
Good luck Travis! We are all rooting for you in the O-Games!
Bonus pic: This is Travis in Mexico, with a young figure skater. It shows what a terrific ambassador for speedskating he is, and also touching his left hip to the ice, showing some serious ST ninja skills.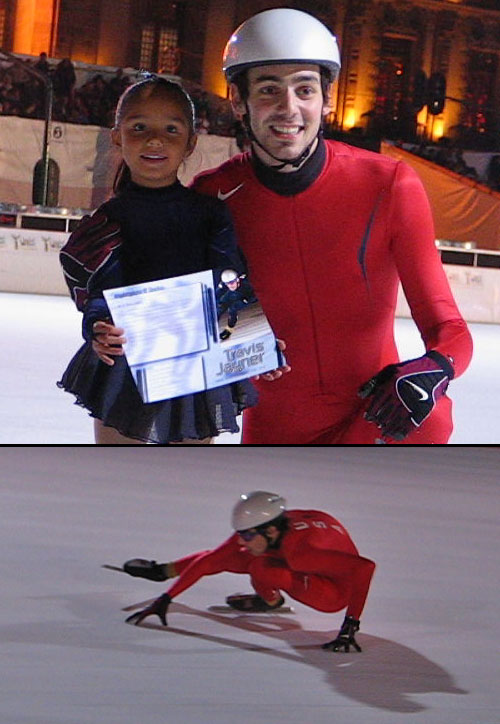 9 Comments »
Filed under: Zen 10 Questions: