Posted on 06 Jan 08:30 pm
For many people, this is winter; An annoyance viewed from a heated box.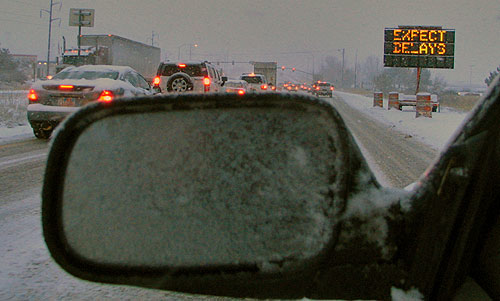 Modern humans are encouraged to live like veal within our boxes, addicted to bleating phones, and insulated from what the world pours down upon us.
There was a time when all speedskating was outdoors. Olympic trials would have been very different outdoors on a day like this.
The old timers WERE tougher because of this, and have every right to feel a little smug at how they fought the elements.
However, they never had to skate the freakish lap times necessary in the modern era to make an Olympic team. The game is just different now, both are/were supremely hard.
Of the 4 slots earned on this day, 3 of the 4 crashed or almost crashed, because of lactic-acid poisoning.
Women's 1000m
Michigan Skater Kelly Gunther had put up the time to beat from the first running of the 1000. A low 1:17 was the time to beat, very few women in the field had that kind of speed-
However Rebekah Bradford was skating the race of her life during her shot at the 1000m, she was clearly on a path for a low 1:16, exiting the final turn, she was so deep in lactic-acid crazy land she crashed. A full-on "faceplant squid" as a spectator told me. Even sliding 40 meters, she recorded the 3rd best time of the day.
Kelly took the line, and skated well, an almost identical time to her first run. A low 1:17. This is the smile of someone who is thinking they just made the Olympic team.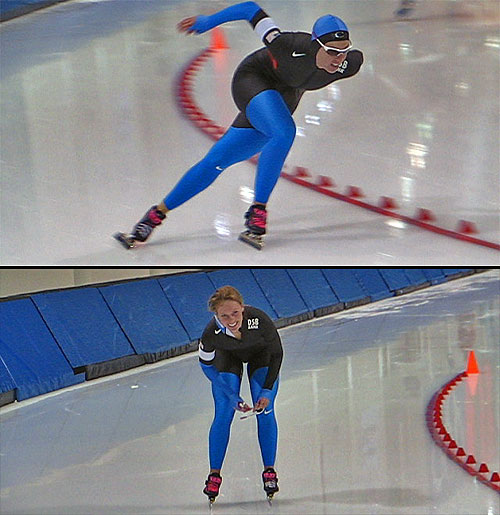 But when a skater has an unintentional fall, although they are out of the overall samalong for the event, they get to do a reskate for team selection purposes.
This happens all the time at US championships. Almost never does an Olympic slot hang in the balance. After an all out effort like a 1000, your body is shredded. I thought Beckah had absolutely no chance.
And she goes out and skates a personal best, almost a full second faster than Kelly's race!
Unbelievable. The crowd went absolutely berserk. Here she is about halfway through, and later with her coach, Ryan Shimabukuro, who definitely deserves props not just for physically preparing Beckah, but technically, and mentally, to go out & skate like that.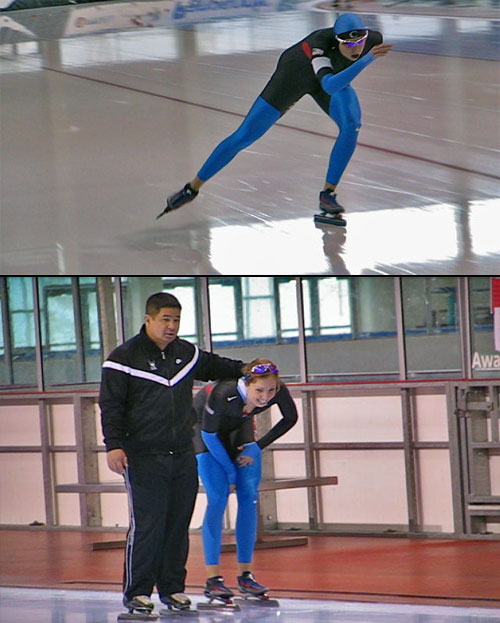 I don't know Kelly Gunther, but I can only imagine the emotional whiplash must have been just horrible. That is trials though, a merciless soul-blender that produces an Olympic team.
There were grumblings about rules & the "Minnesota Mafia", but reskates are done all the time, no matter the place in the standings. If you unintentionally crash, you get a reskate. And also, karmically, Beckah was clearly the strongest skater.
Men's 1000m
Tucker Fredricks already has his Olympic team spot in the 500m. He has so much speed now, in an early pair of the 1000m, he sets down a scorching 1:09.22 He was in a world of hurt, and almost dumped it in the final turn as well.
time passes, Life intervenes. I love my job, but… must… finish… post!!)
So many good men threw themselves into the 1000m race effort. Chris Needham taking the last steps of his outstanding speedskating career. He threw down one of his fastest 1000m efforts ever, and harking back to his ST past, did a hand-down pivot the whole final turn.
The shape reflected in the ice in the inner lane is Chris's wife Carrie. She has taken every step with him. All the joy & pain. It's fitting her reflection is right next to Chris as he gives everything in his final race.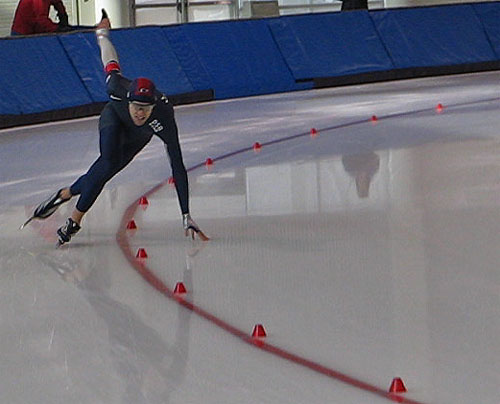 I know this next shot is out of focus (damm camera!) but it shows their deep bond. No one goes to the starting line alone, and Chris you have some amazing people alongside you as your take the next steps in your life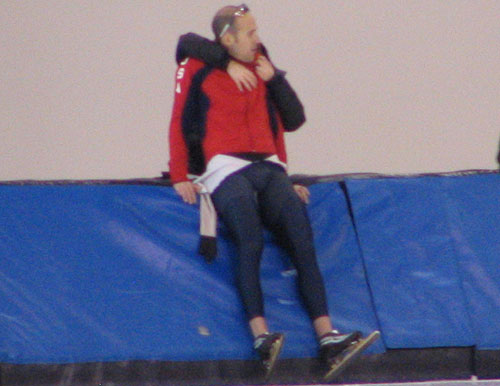 Joey Lindsey and Robert Lawrence have known & raced each other for years in short track. They are good friends.
This is helpful; because there is a good chance these two extraordinarily talented young men will have to do a lot of traveling together on future world cup teams.
Joey was 5th overall, and Robert cut 2 seconds of his previous PB.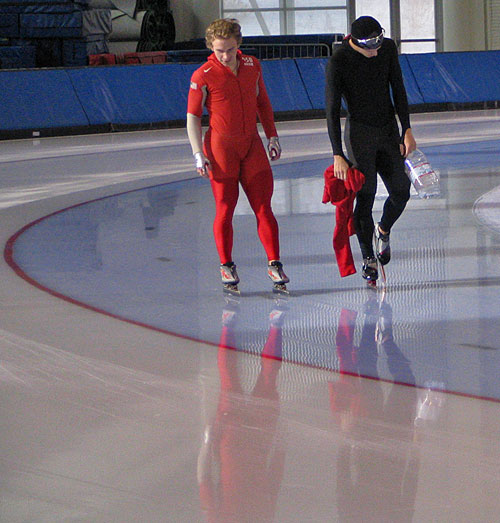 Note the size of Joey's water jug. Hydrate or die!
But the fastest man among the fast men today was Nick Pearson. Like most of the folks who raced the world cup circuit, Nick was very tired, and did not skate to his highest standards.
Nick wryly remarked to me "I skated a 1:08 in 2005, and did not make the Olympic team. This time I go 1:09 and make it."
This is his transition step into a low-25 second lap inner turn. This must be HUGE pressure to control. Congrats Nick.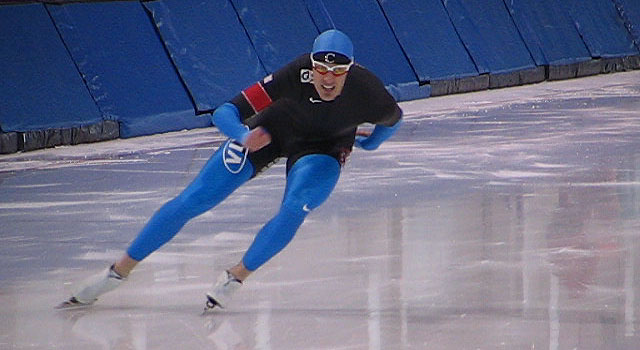 Very tight final scoreboard. 4 men all within a tiny, tiny margin of each other. Just one goes to the games.
Women's 5k
As expected, Maria Lamb was the class of the event. In her final shot at this Olympic team, she really went for it. She was quite a bit ahead of the rest of the field at the bell lap.
During her final turn, through the lactic haze, she stumbled, almost crashed.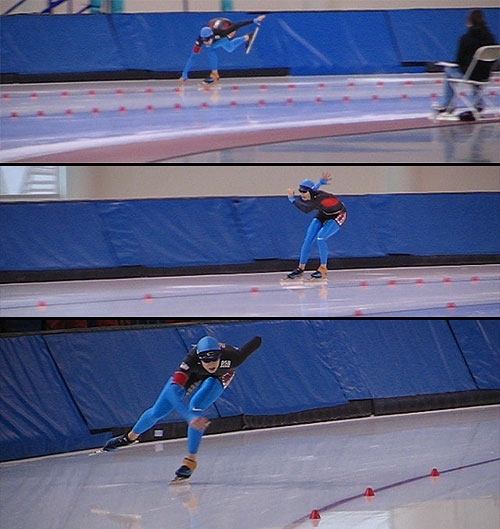 Righting herself, I could see the look on her face "did I just screw up my chance at the Olympic team!?!?!?"
What do we watch sports for? We watch for moments like this, for Maria fighting through the mistake, and urging her siezed legs to take those last few steps, and make the Olympic team by the slimmest of margins.
Her tears from after the 3k were now tears of joy.
Men's 10,000m
LT speedskating is a mesmerizing blend of precision and pain. It's just you & that electronic eye.
The men's 10k is a sufferfest. To win this involves skating almost 28mph for 16 minutes. Its an incredible test and the specialists in this event are a breed apart. No one EVER questions their toughness. I've skated 4 10k's. Each is a memory that will never leave me.
Pat Meek threw everything into this, led Trevor Marsicano for much of their race, and paid for it. You can see the marks his skates made as he was on his way to collapse. A 20 second personal best was not enough.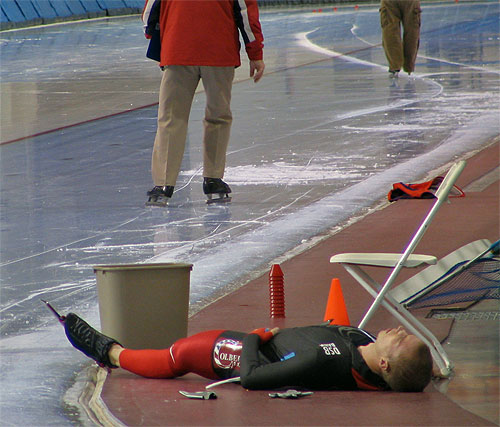 Scenes like this are common immeadiately after a 10k.
Ryan Bedford & Paul Dyrud have a lot of years in this sport. They started out suicide fast, after their first few laps, they were at least 5-6 seconds up on the leader, Trevor Marsicano.
Going into the last lap, Ryan still had several seconds in hand, but then he lost it. His body said "NO FREAKING WAY!" but his will was stronger.
I publish these images not to make fun of Ryan's collapsing technique. This level of suffering and effort won him a slot on the Olympic team. I publish them to remind us all to skate, or face life, with courage like Ryan.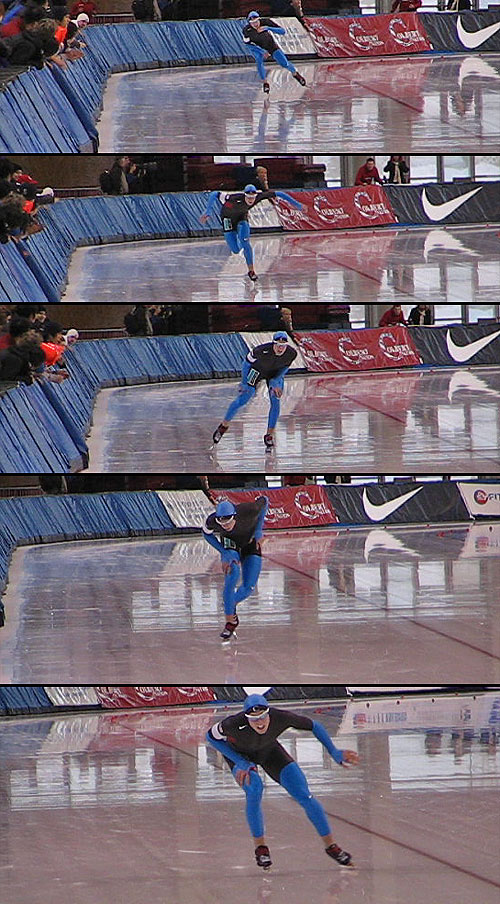 To "skate a Bedford" should mean something to everyone who saw this.
Here is final picture from trials. Ryan's pair Paul Dyrud.
Step by step with Ryan almost all the way. Paul also threw down a huge personal best on the day it counted.
He is being comforted by his girlfriend, and in the distance, Ryan is skating towards the crowd that is still screaming & cheering for what he accomplished.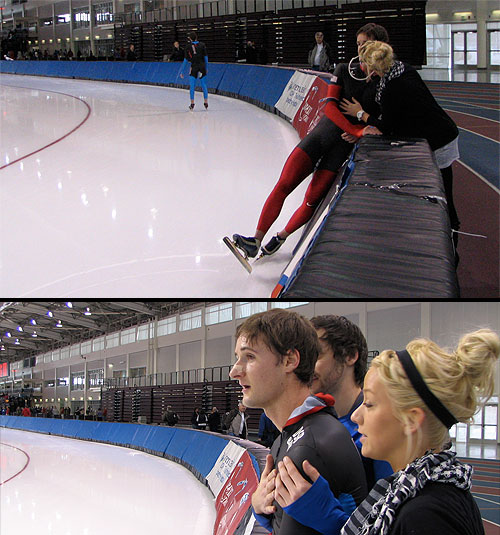 5 Comments »
Filed under: Olympic Trials