Posted on 30 Mar 10:21 pm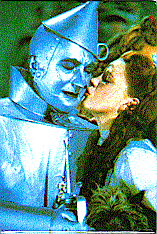 The scarecrow was always too scratchy for Dorothy to really hug, he smelled like hay from close range, and after he got his brain, like most people he found true thinking a mixed blessing. He spent many hours in his original field, conversing with the flowers, consulting with the rain, right back where he started from, less happy than before (so he would sit, and think some more).
The lion at heart was just a big pussy, and his inner doubts about his courage were never truly appeased no matter what he did, no matter were he wore his wizard awarded medals, they were symbols that masked a heart that always had something to prove, and once one goal was accomplished, another loomed to gnaw upon his fundamentally mammalian and carnivorous self-esteem.
But the tin man was different. Outdoorsy yet obviously high tech, once he found his heart, it filled him with regard for love and art, and his metal warmed to Dorothy (he became tender, gentle, and awful sentimental). Also he needed her, as when on those rare moments he cried, or the world threw a thunderstorm his way, she could expertly apply the oilcan. He would always be a tin man, even his when his heart occasionally reveled its basic mechanical and finite nature she loved him anyway, besides, any guy who can handle an axe well, is very sexy.
I do my 2.5 hour Russian jump skate training program tomorrow, and will be calling on dorothy's love, and oil can to help cure the full body case of sore rust I will be applying to myself…
No Comments »
Filed under: from home