Posted on 31 May 07:35 am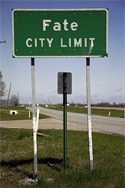 There are times when I simply stop, awed with wonder, at how the stars & winds & fates seem to be lining up and all pointing my way. From my 100% supportive wife & family, to overcoming injuries (they make me thankful for my health), to getting laid off from eCornell (along with 13 other people) pointing my way to full time training last year, things have all worked out, all pointing my way onward.
Today another piece of the puzzle fell into place. Unlike friends of mine who struggle to get their hometown newspapers to notice their existence, I have been tremendously lucky in meeting with some very intelligent and thoughtful reporters from the Ithaca Journal. Lamond Pope, the sports editor, interviewed me last week, and has produced a wonderful article that came out in today's paper.
Here is the direct link to the article (I think this will change over a few days as it goes from current to archived, I will check to make sure this link is current).
Yes, I work really hard, I was born with a high concentration of fast twitch muscle fibers (thanks mom & dad!!), and I was taught by my parents and teachers to believe in pursuing what you love to do as the path to a happy life. But wow, today I feel like the canary that ate the cat!
No Comments »
Filed under: from the coffee shop