Posted on 31 Oct 09:09 am
Most people are familiar with these common athletic acronyms that appear on speedskating results sheets:
DNF -did not finish
DNS -did not start
DSQ -disqualified.
Some who have raced for years are even familiar with one of my all time, but much less common, favorites;
DFL -dead freaking last,
I DFL'ed a good deal when I was bike racing, usually on courses that resembled M.C. Escher paintings marching relentlessly uphill.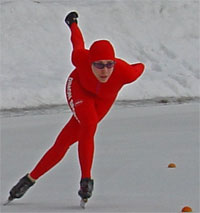 So I am having an email conversation with my close friend Carla "last-lap" Langenthal, (shown on the right here) and she wrote me about some new acronyms she has come up with. Her email started out with:
We all skated terribly this weekend, and I've come up with new abbreviations to go with DNF and DNS.

DNSRW –Did not Skate real well
NGR -not a good race;
SWS -slipped while starting
UBS -unexplainable bad start
UBR -unexplainable bad race
SIC -slipping in the corners
NPS -non-powerful straightaways;
WAL -wobbling ankles or legs,
STF -started too fast
STS -started too slow
EPE -equipment problem(s) excuse;
LEP -legitimate equipment problem(s);
IIE -illness/injury excuse,
RII -real illness/injury;
AHL -ask him/her later;
DAC -don't ask the coach.
This, of course, got my mental wheels turning, and I had to add a few of my own creative acronyms to this list;
LOL -legs of lead
FBC -fast but crashed
CIC -crashed in corner
OGD -other guy drafted
OTF -over trained fool
NEC -not enough coffee
TMC – too much coffee
VUB -vomited up breakfast
FTD -forgot to de-burr
MTC -MUCH TOO COLD (a Lake Placid special)
EBF -eye balls froze (more Lake Placid)
SOB -skinsuit on backwards
Carla replied with:
DRC - distracted by rude comments
DBE - distracted by ex
DBC - distracted by crush
DBK - distracted by kids
DBP - distracted by parents
CLT - coach lied about split times
PCL - pair's coach too loud
PIS - pair was inappropriately slow
PLP - pair lied about pace
OWW - officials were wrong
LCW - lap counter was wrong
CDW - clock didn't work
AFO - armband flew off
GTW - got tired warming up
DWE - didn't warm up enough
IRS - ice repair while standing on starting line
By this point, the acronyms were getting out of control;
WOC -White out condiditions (lake placid, about 25% of the time)
NEO -not enough oxygen! (high altitude rinks only)
AWB -ate Wisconsin breakfast
FTS -forgot to sharpen
SIR -stuck in rut (this has a physical/mental double meaning)
OTH -OH THE HUMANITY! (Reserved for really bad days racing a 10,000m)
More Carla:
FDN - friend drunk-dialed in the middle of the night
GSM - got stuck in the Marquette interchange
PBS - pretty but slow
UST - unusually sloppy technique
DTH - dinner too heavy
BTL - breakfast too light
DNH - did not hydrate
AJF - accepted junk from a friend
FPF - (travelling) forgot to pack food
ASS - (travelling) ate something strange (hahaha)
FPS - (travelling) forgot to pack supplements
OPD - out of preferred sports drink
SAE - too soon after eating
UMS - unintentional midrace striptease
And my final thoughts (both Carla & I could not stop by this point)
ZMS -Zamboni missed spots (the crash shown here was because of big raw chunks of public skating ice, why do so many outdoor rinks have issues like this??)
RFU –rocker F****** up
BFU –bend F****** up
GFU -glasses fogged up
CPO -contacts popped out (this one just happened to a friend in a 3k)
SZB -skinsuit zipper broke
BRFU -big race freak-out
FAB -forgot albuterol
PIS -parents in stands
WIS -wife in stands
CBS -cursed by snails
NEI -not enough ibuprofen (masters only)
ZEP -Zamboni exaust poisioning
CBZ -crushed by Zamboni
ASiM -annoying song in mind
LAP -lactic acid poisioning
and here is my favorite, and anyone who has ever stood on a starting line experiencing intense pre-race nerves has likely felt this
ESC -Existential Skating Crisis!! This is asking yourself "Why am I here!!" and finding no rational answer.
If folks out there in internet-land have more to add, go for it!!
if you leave a comment, and get a message saying the comment did not go through, ignore that!! That is my super-aggressive anti-spam filter speaking, I always get every comment, and approve them by hand later in the day.
12 Comments »
Filed under: from home