Posted on 30 Nov 11:53 pm
Snow has been pounding Utah for the last week, but today the clouds parted, and the peaks, wreathed in white, stunningly appeared against a perfect blue western sky. This is the Wasatch Range looking east: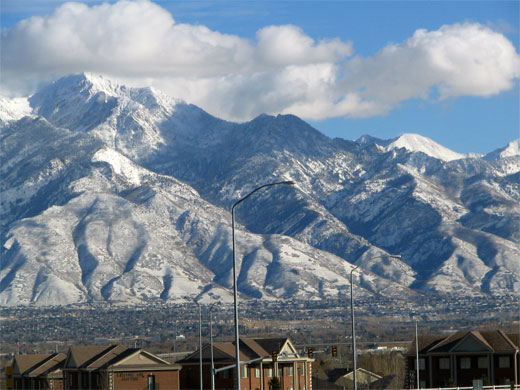 And the very different mood of the Oquirrhs (pronounced like the plural form of the color "ochre") looking west:


Gosh, its so beautiful out here, and I needed to see this as I drove to the rink. Nature can remind you of the your proper miniscule place in the universe when you are stuck within your own selfish crap. See, I have hit a speed plateau in my skating, and have been frustrated recently.
I probably seem like a reasonable, thoughtful person in this calm & wordy format. But sometimes on the ice I can be quite different; intensely competitive, monomaniacal, focused, obstinate, and angry with myself when the technical flaws I have been working to correct for years keep coming back over and over. Boris deserves a medal for dealing with me these last few weeks, or at least I should buy him a good bottle of vodka. I think a few of his grey hairs are now indisputably my fault.
But the mountains today made me feel better. But all is still not well at the oval, arriving at the rink, I notice my friend & fellow Lake Placid refugee Donald Stewart hobbling around. On Monday he was doing a simple 200m accel, nothing crazy or dangerous, and Donald both felt and heard something go snap-crackle-pop in his left foot. He stood up, and said to Chris Needham who was skating with him, "hey! I think I just broke my foot."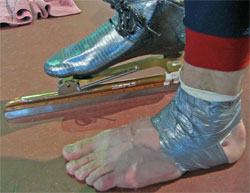 And he had, in three places actually, two bones in the forefoot and one in the heel. He had a cast put on Monday, and today he cut the cast off and tried to skate. He borrowed tape from me, and this was the result, a wild blend of hockey tape and duct tape. I thought it was quite funny that the tape seemed to match his boots.
He just briefly touched the ice, and was in quite a bit of pain, although he put a brave face on it. 28 days to go till Olympic trials is not a good time to break your foot!!!
There are quite a few people who are hurt or sick at the oval right now, intense athletic demands exacts an intense price. All of this reminds me to be happy for the few things I do right when I skate, the mountains, a coach who puts up with my crap, and my overbuilt-clydesdale solid skeleton!
3 Comments »
Filed under: from home