Posted on 28 Feb 04:05 pm
"Watching a Masters 3,000m race is as much fun as watching paint dry."

-some dork masquerading as a speedskating official
I believe this was actually said at a US speedskating board meeting, so I could find out who said it, but I don't want to use this blog as a weapon. Besides, I don't need to argue with such inanity, it speaks for itself well enough.
However, I invite him to change his opinion by officiating the incredible metric/pack competition at the Masters International. We are the most exciting paint imaginable! I promise it will be the most fun he will ever have at meet..
Here are some pictures (paint?) from the finish of the 40-44 category 500m. This is my proof. From L to R we have Olusegun Sijuwade (with perfect corner exit hip/blade position!), Matt Trimble, Randy Plett (with the good "race face") & Steve Desotell.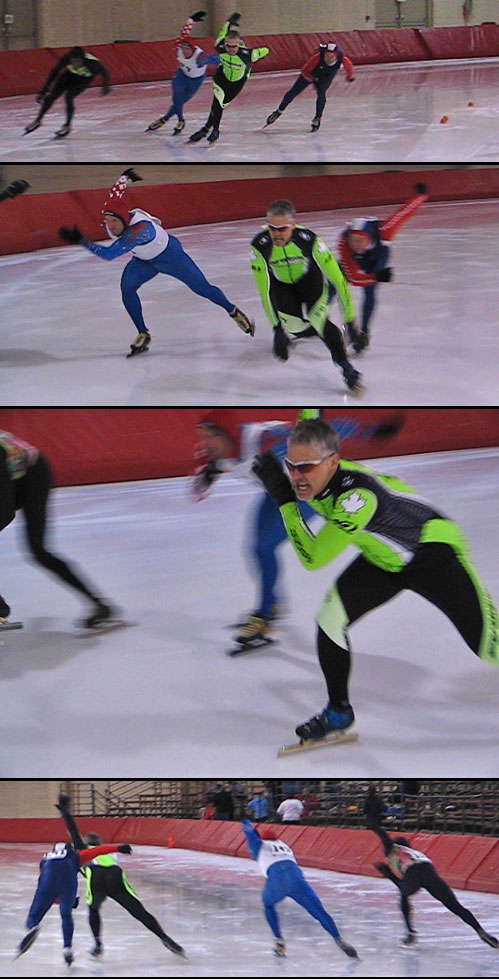 The margin between these 4 at the finish line was .2, with Olu winning it by a skate blade. EVERY SINGLE race this group did had a finish like this one, The pic below is the 800! Almost a dead heat between Trimble & Desotell!
And in that "paint drying" 3k? Steve Desotell & Tom Cole finished within .05 of each other at the line after a very fast race! I have made my point, and I will now climb off my soapbox.
But skating is not just about winning; it's about persevering for the pure love of this bizarre sport that seems to often reward dedication & devotion.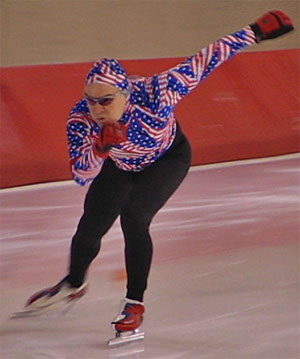 Here is someone who truly loves his skating, Tony Marchese (yes, this is boot artisan Paul Marchese's dad) Racing in the 65 & 69 category, he still hauls! He used to be a professional boxer. He says that in terms of training, speedskating is MUCH harder, and that most of the time, speedskaters work far harder than the boxers he has trained (actually, the precise linguistic terminology he used describing most boxers was "wuss").
If there is a "bionic skater" award, Tony wins it across all age groups. I had heard about this, so I asked him for the full list. He has faced the knife more times than a turkey on thanksgiving, and the list went something like major heart surgery, 3 shoulder surgeries, gastric blockage surgery, a steel plate with 6 big bolts in his back, then he breaks one of the bolts -so he had to go under the knife AGAIN! Does he make the six million dollar man sound when he skates? Nope, but he has a lot of fun. Tony, did I leave anything out?
Tony has had every possible reason/excuse to "go gently into that good night", and he still keeps on keeping on & doing what he loves. What is your excuse?
From left to right, in a 500m women's heat. Cindi Hart, Carla Langenthal, & Karla Cybulsky.
Another Women's 500m race blasts off the line, from near to far, I think we have Leela Braun, Karri Cox, Alice Hagen, and Melissa Koenig.
Steve Gunther Traveled from Maryland to do this meet, and raced very well. Here he is in the lead of a 500, flanked by Dave Montgomery and Al Harding, but I am not sure who is who of those two. Steve set several age group records at North Americans this past year, and was the happiest man I have seen in a long time! Do Masters records matter? I point to Steve's smile & satisfaction, yes, it can matter A LOT!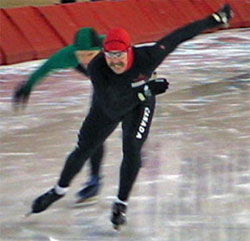 Bob Lawrence has competed several times in the Masters World Games, and shows excellent form here winning a 500m final right in front of fellow fast Canadian Mickey Kupchyk. I got to know Bob during a ferociously cold event in Ottawa several years ago. Bob has had several injuries this year, and is not in his usual stud form. In fact this is only his 3rd time this year on the long track. But the lure of the Masters International drew him to Milwaukee. During the awards ceremony, he said some really nice things on behalf of the 10 Canadians who came to race. He said he will return with many fast friends!!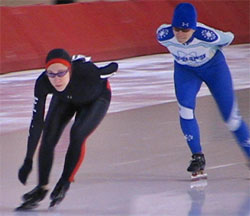 More Carla, this time in the 3k where they threw several of the women's categories together. Carla simply took the lead at the start and went fast. Here is Karri Cox trying to stay with her. After 4 laps Carla was alone & metric raced it all the way to the finish.
When people talk about the "fall" into a skating stroke, you can see it here if you draw a line directly down from Carla's chin, she is leaning into the push, and this moment is when she actually starts her push, so a skate stroke is a lean-push, lean-push (beginners usually start out with this exactly the opposite, pushing into their lean). This happens very subtly on inlines too, but you can't (or at least I can't) be nearly as aggressive or powerful with it as you can on ice, or the wheels slip right out from under you.
As for yours truly, I had some great racing with Danny Frederick on Saturday (he was not able to make it on Sunday). Danny is a good fella, and was 6th in the Olympic trials in the 10k. We were extremely closely matched, so it was that perfect blend of searing speed and pack tactics. Danny beat me in the 1000m, I won the 800, and also won the 500m metric race with a new Pettit center personal best of 37.66, and my fastest opening 100m ever, 10.32! yeah!
At the end of everything, they always have a big group 5k. This does not count for anything other than pride, just throw everyone together on the line & have a wild salmon run mass start race with a huge pack. That's me in the fire truck red skinsuit in the front row.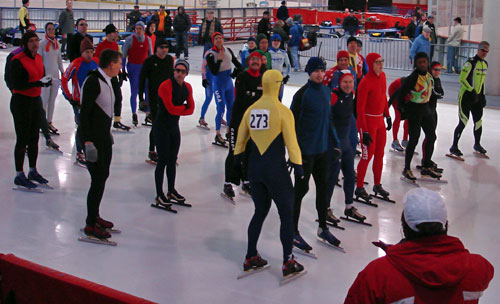 (thanks to Kathy Stutz for this pic, she also captured some start line goofing around, to see it click here).

Even standing at the start, eventual winner Matt Trimble is shadowing me (he is directly behind me). Matt saved his energy through the whole race, and made a very impressive move right at the bell. After 11 races and 15,500 meters of racing, my fast twitch fibers were completely twitched-out, and I could not match his acceleration.
Its worth mentioning that my fellow Powercranks racing team member Carla Langenthal pulled many of the 5k laps, and was leading the whole pack at a ferocious clip when the bell rang. If Powercranks are useful for two speedskaters as radically different in body/muscle fiber types as "last-lap" Langenthal and "fried after 600m" Love, then they probably are useful for everyone in between, as that is pretty much everyone. (ok, commerical over.. sorry! but they have been great sponsors for myself & Carla, and I want to thank them every opportunity I can)
14 Comments »
Filed under: sweat, from the coffee shop