Posted on 24 Jun 08:48 am
If you have ever had a snake as a pet, you have likely seen in the last few days before it sheds its skin, it's eyes become milky and cloudy. It's the last step before it shrugs off its old dirty scales, and struggles outward into new growth.
Maybe that is what I have been feeling for the last month, last year was SO intense, so purposeful, so clear in its focus towards Olympic trials & racing in Europe afterwards. Maybe I don't want to leave that skin, but it's old, and clouding my senses with a depressive anesthesia.
Enough mopery! my brother sings of the joy of the texas breakfast taco, and if I lived nearer, we could eat them together and he would pick on me and I would smile & feel better.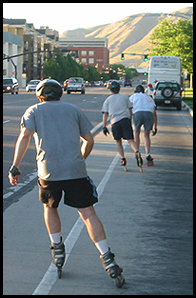 Snakes, before they shed their skin, will rub their noses against something, to make the break in the armor that they will wriggle through. In that light, I did something different last night, I went along with the Salt Lake City Friday night skate.
It was a blast, 7 other good souls, on a wide variety of skates, bopping though the traffic of downtown Salt Lake. The sun dipped behind the hills, and the air became that perfect warmth, that urban summer evening energy of a lively town just awakening to Friday night.
There was no destination set, no training mission, nothing other than the joy of skating. That is the root of how I got into this sport, goofing around on my inlines, and I needed to remind myself of it. We whizzed through the streets of Salt Lake with agile abandon, and finally ended up at a bakery for cookies!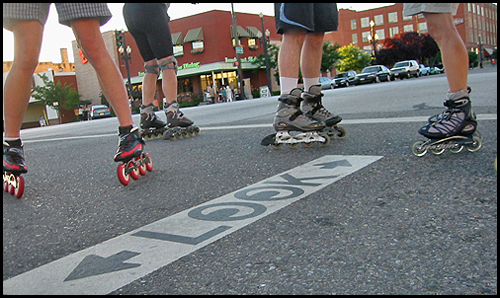 There is such essential joy in this simple sensation of flight, in all the senses being awake & your life as clear as the cars 3 feet from your left shoulder (& the pretty girls in the sports car telling us we were cute was a bonus!).
Complications fall away when you touch base with that one thing you were truly meant to do. For me in this life it seems to be skating, and in the humid dark, gliding back to the car, I was smiling again.
11 Comments »
Filed under: from the coffee shop