Posted on 27 Sep 12:29 pm
Kip Carpenter is not just one of the fastest sprinters in the world; he also is a talented photographer, web designer, and fundamentally inquisitive dude.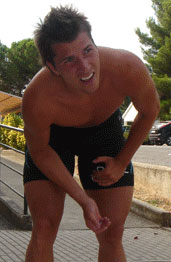 He has completely redone his website, kipcarpenter.name, and it's a wonderful look inside the DSB pro team & how Kip sees the world. He seems happy, healthy, and as the photo on the right shows, working hard and looking ripped.
Reading through the website you can find images and videos of acupuncture, savage rocky training, video of Kip's Italian Greyhound sprinting at 35mph, images of his "lady in red", and as a bonus one can discover what triple gold medalist on the DSB team is known as "Tinkerbell".
As the ice season begins, inline speedskating is winding down. Worth noting on the web are blogs two Canadian inline speedskaters kept of their experiences during Inline World Championships in Korea. Here is Peter Doucet's illustrated journal with links to loads of videos & prehaps the most incredible finish line photo I have EVER seen, it's worth the click.
Sprinter Andrew Hegarty also did a Canadian inline world team update page. It's not as obviously visual as Peter's, but the links on the sidebar have TONS of stuff available to the skate obsessed.
Andrew has also just launched his own blog, I wish him well on his journey.
Since the mainstream media pretty much ignores all but a handful of sports, and seeing that most media outreach efforts by speedskating governing associations have minimal impact, it's efforts like blogs by the athletes themselves that become authentic news, the fascinating news, not just the results, but the human aspect of the journey.
3 Comments »
Filed under: from the coffee shop