Posted on 31 Oct 07:30 am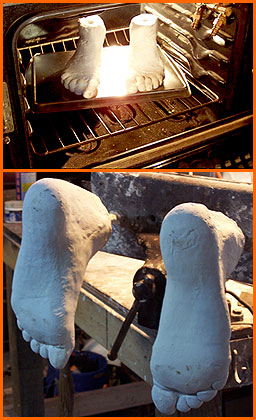 Happy Halloween! On this day of overwhelmingly safe & sanitized spookyness, I find these pictures Bruce Kohen emailed me to be genuinely unsettling.
These are perfect replicas of my feet in the SS Boots workshop. He is about to start building a custom carbon fiber speedskating boot around these casts.
It's unsettling to see a perfect replica of one of your body parts in someone else's oven. I have lived with these feet my whole life, from my hammer-toes to my huge arch, and these casts are.…. absolutely… perfectly…. me….
Strangely enough, according to custom boot makers, one of the hardest parts of construction & why experience matters so much, is they have to "file" down a good percentage of these casts & remove lots of the "fleshy" part of the foot, as the boot really supports your bones, & not the flesh…
I REALLY don't want to see pictures of that!!
9 Comments »
Filed under: from home