Posted on 30 Nov 05:31 pm
It was 8 degrees in Salt Lake this morning; Brrrrr! Both my dog Lilly and local sledding hill were loving it.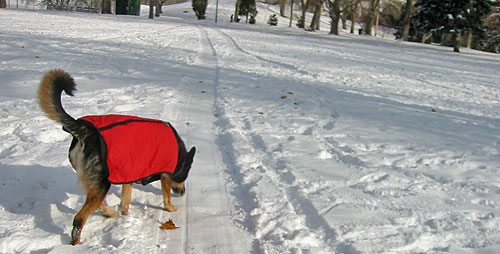 However the east coast is unseasonably warm right now. THE LAKE PLACID OVAL OPENING IS ON HOLD! I will be updating the Dimon Sports website with the latest as news comes in.
Check out this fascinating USA weather map -try the mouseovers just below the national map, you can see temperatures sloshing about, the east coast looks very warm. My parents in Vermont say it is "almost scary warm".
XC & Downhill Skiers, Speedskaters waiting for outdoor ice, and other winter enthusiasts are not happy in this age of global warming.
I must admit that out of some flavor of "guilty liberal duty", I went to see the Al Gore film, An Inconvenient Truth. I am glad I went. It shows absolutely terrifying scientific projections that have nothing to do with any political philosophy; Global warming is really a moral/survival issue. Yeeeeoww! Go see it, just go, really….
Of course does this have anything to do with speedskating in an era of indoor rinks? I would argue yes, it does.
Speedskating (and skating in general) started on lakes, rivers, canals & ponds. If natural ice slowly dwindles, then the roots of this sport are weaker (and much of lowland China, Manhattan, San Francisco, Florida, and Holland will be under FEET of water, that's mildly important too).
Even from my own small sample of one, I took my first "clap blade" enabled steps on a pond in December of 2001, and a few months later took this picture during a 100k speedskating race.
It was this weekend I met my longtime friend Carla, who is wearing her infamous "blue mittens of doom" in this photo. Many skaters have felt these fleecey paws skimming their nose as they try to draft her.
So yeah, no natural ice, my life is different & I might never have met a close friend. They even had to cancel ice Marathon Nationals last year. It got too warm, the track was a foot deep in slush.
How many speedskaters from Michigan got their start in the sport, or met longtime friends on the Lake Petoskey natural ice track? Speedskaters in Butte rely on cold weather, and anywhere people shovel a track out from snow covered ice, you need sustained cold.
The list goes on & on, and increases unimaginably when you add the joy that is pond hockey to this consideration (there even is a huge pond hockey national champs, cool…)
Spring, summer, & fall sports have their seasons, however we could see the slow disappearance of many winter sports in our lifetimes. Sad…
For the first time I will try importing an amazing video I saw YouTube (if it screws up your browser/computer, let me know, here is a direct link to it on youtube).
I have spoken to several people who have related awestruck stories about skating canals winding through cities or the countryside in Holland. It's on my "list of stuff to do before I die". This is an amazing video of exactly what I imagine it to be like.
There is a sound, and a freedom to the easy speed of good natural ice. I can feel it here. Also find out what a "wak" and "klunen" is. Hey Ernie in the Netherlands, thanks for this video!!!!!!!
11 Comments »
Filed under: from the coffee shop