Posted on 31 Mar 01:06 pm
I took this picture of Bruce Kohen recently, in his left hand are my current pair of boots, in his right is a set of inline boots with titanium mounting blocks & extra glitter.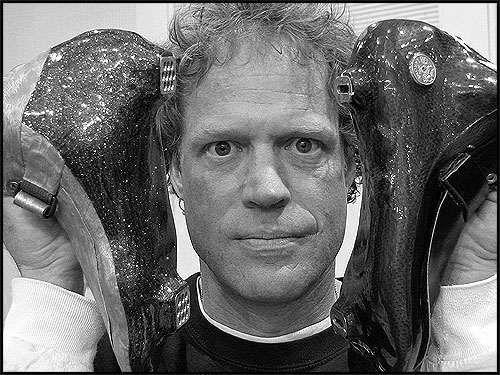 I've been calling my boots the "Darth Kroners" as I asked Bruce to make something Darth Vader would wear, and the circle in the heel is a "lucky" Norwegian Kroner I found on the ground outside the Utah oval.
Bruce says his neighbors is Missouri often call him the "local mad scientist", and he is certainly eccentric.
But I'm eccentric in my own way as well, so I think being a true individual is a good thing. It's not an "easy" thing to be, but it makes life more interesting.
For the carbon fiber in his boots, Bruce uses the same military grade stuff they put in the Stealth Fighter (really!), for the glitter, he ground up a 500 pound vintage disco ball (not really, but whatever he uses, it's cool looking).
I seem to have started a series of pictures, of faces & skates… Equipment matters, but the skater who powers it matters more. It all started with this picture.
It's the "off season", and I thought that I might take an "off-season" as well with the blog, but good stuff keeps coming in!!! stay tuned…
6 Comments »
Filed under: from the coffee shop