Posted on 30 Aug 07:35 pm
I am writing from the crossroads of the Universe.
Where is the crossroads of the universe? If you fly Northwest, your crossroads is the Minneapolis airport.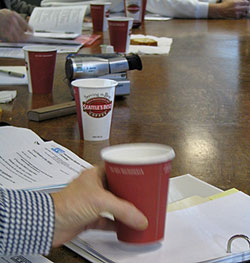 I am on my way to Germany for a meeting of the IMSSC, as I am the USA rep to that organization. Everyone talks about GROWING speedskating, this committee has been wildly successful at it.
On the right here, is the hardworking hands (& coffee cup) of Bram de Vries, the Dutch rep, during the Calgary Meeting this past february..
And here is a group shot of the reps. Quite a collection of excellent skate-minds.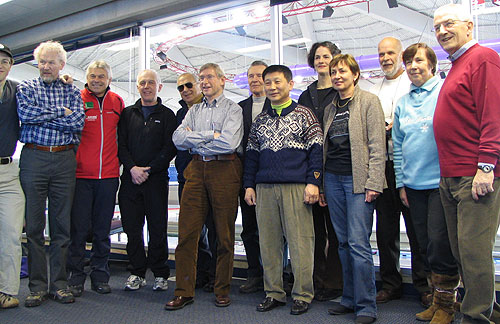 Here is one of the IMSSC's main news pages (and the skater in blue on it, whoa! is me, someone just added that picture! My opening 100m in that race was as butt-ugly as this turn picture is pretty)
and here is their main website.
Since it seems silly to have a 17 hour travel day just for a meeting, afterwards I am hopping on the train and going to AMSTERDAM!!!!
Jessica is meeting me there, and we will be nosing around for a week, balancing doing skating-theme stuff with the incredible art museums & culture that the city offers. We also plan to travel up to Friesland for a day or two.
I've never been to the Netherlands, and am quite excited.
Any suggestions from Dutch readers, or Americans who have been there, on what "MUST SEE/MUST DO" things belong on the list?
Eva has told me extensive stories about stroopwafels, my brother told me about this concoction halfway between chocolate pudding & milk called "bla". Mmmmmmm…
I hope I can fit through the doorway of the plane on the way back!
26 Comments »
Filed under: from the coffee shop