Posted on 03 Sep 07:38 am
A few images from the past 72 hours.
Welcome to Holland! The bathroom on the B concourse at the Amsterdam Airport has marathon skaters as abstract art!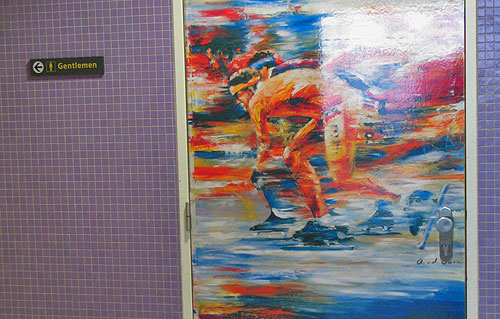 Oddly enough, I went to the newsstand, to get an issue of SchaatsSports, but the first issue of the season has not arrived yet.
The meeting that I came here for was in Krefeld, Germany. The International Masters Speedskating Committee, it was endless crushing discussion & since I was the fastest writer in English, I was asked to transcribe the minutes of the meeting.
From left to right is Markus Ulmer from Switzerland, Sven-Age of Norway, Bram de Vrees of the Netherlands, and Antonio Nitto of Italy. Just out of view on the Left is Volker Serini of Germany, on the right Lasma Kuniste of Latvia. I will write more about the IMSSC in another post, as well as the finalized competition schedule for this season
The next day, in Amsterdam (thanks to Bram for the ride and to his wife Trudi for the Koffie & Stroopwafels!) I had Puur Hagel Slag on my hah-beschuit.
Traveling is about many things; to me, interesting food is one of the joys that must be partaken of, especially chocolate sprinkles on a breakfast biscuit!!.
I am staying with Jules, the frequent commenter on this blog, and we drove north from Amsterdam, into the skate-crazy province of Friesland, and the small town of Hinderloopen.
Old Holland meets new Holland here.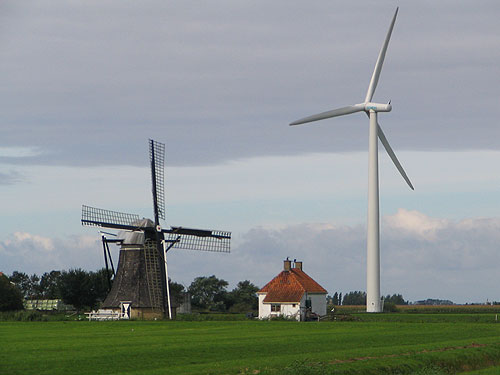 I saw only 2-3 older windmills, but hundreds of absolutely massive wind-turbines slowly thwoping against the overcast sky. There were incredibly huge farms of them just offshore as well.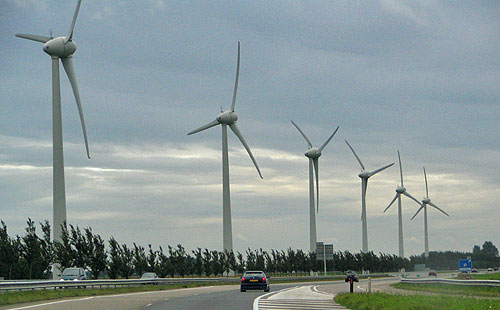 Jules skated the 1986 elfstedentocht, he speaks of the experience with reverence. We inlined along the canal in Hinderloopen that is an early part of this famous 200km skate race.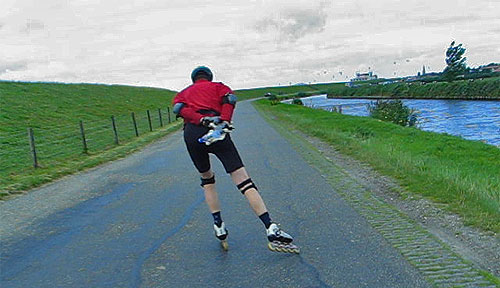 Just over the Dike to our left is the inland sea, or the Yselmeer, to the right, the canal.
Holland is absolutely honeycombed with canals. You are almost never out of sight of water.
In the pond covered USA northeast, upper Midwest, & Canada, Hockey is the logical on ice sport. Here, distance skating is the natural activity on the incredible network of canals.
Almost every road was next to a canal, it seems a person could actually travel very effectively via ice. Most are small & shallow, so falling through the ice would not be like falling through the ice on a lake.
Here is a view from the top of a Dike looking towards the Yselmeer. A Dutch Mother & her daughter out for a walk. The kid had a quiver full of seabird feathers collected during this outing.
It was quite a windy day, Here are some big kids at play on the Yselmeer
(click on the image for a larger one & so you can count how many windsurfers there are in the photo, as well as windmills in the distance. This was the windsurfer side of the lake, in the other direction, there were HUNDREDS of kiteboarders)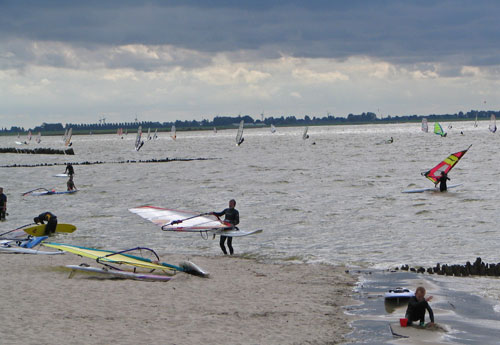 After this we went to the Hinderloopen Skate museum, otherwise known as the schaatsmuseum.. Hundreds of amazing, old pieces of skate history there.
They had a complete collection of original iron skates. Most European skates were quite elegant, sweeping and ornamental. But these American skates from 1900, drilled out for lighter weight, seemed all business for racing.
Racing a marathon down the Hudson river on skates like this would be such a blast. They used to do that all the time.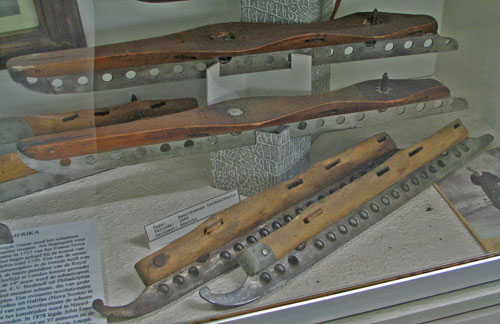 Here are some ancient inlines & medals won on them. There were people racing on things like this in mid-19th century!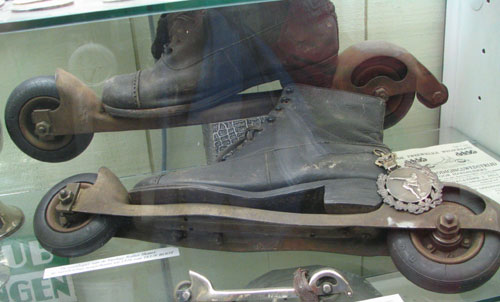 Everyone remembers this small exhibit of the museum, this is a good chunk of a toe that froze off during the incredibly brutal weather during the1963 Elfstedentocht. Almost 9,500+ started and only 69 finished.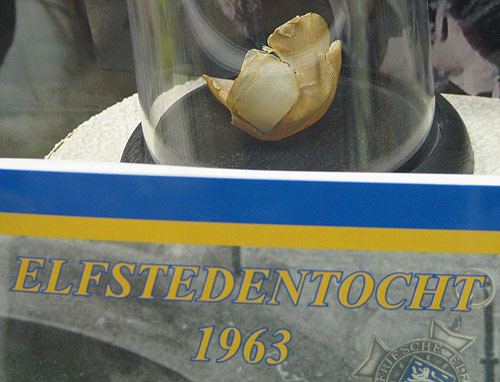 It's a gross picture, but the important thing to realize is that the owner of this toe seemed quite proud of it. He saved it for 30 years, then donated it to the museum.
A graphic from a poster, loosely translated, it says "skaters can see hallucinations 150km into a race". I think I would chase the coffee cups quite hard. I've raced 50k many times, and 100k once… 150-200k seems like it would cause hallucinations.
Another graphic, seemingly people dream about skating. One bit of trivia shown by this is under the right arms of the skaters. Look closely at this graphic. This group is gripping a long pole under their right armpit.
Large groups of skaters used to work together this way, & the strong ones would push or pull the weaker ones up to higher speeds. Like drafting, but a LOT more.
Obviously this would not work too well in the turns, it would be interesting to try it on inlines though.
These are Dutch Skating Legend Evert van Benthem's skates. He got kicked near the finish, and won the race even with this large chunk missing out of the back of the skates, (He did not know till after, click this for a larger picture).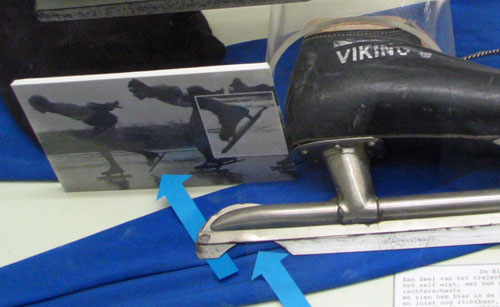 Next time I whine about my bend being a little bit off, I will try and remember this.
Benthem now lives in Canada, and runs the Sylvan Lake ice marathon, that attracts hundreds of skaters every year.
and to finish, a delicious Frieslan pancake, I don't think chocolate syrup & ice cream is traditional in any way, but this thing was ABSOLUTELY GINORMOUS, and as tasty as it was huge.
Ms Piggy once said "never eat anything larger than your head". It's generally good advice to follow, except when eating chocloate slathered pancakes in Friesland.
12 Comments »
Filed under: on the road