Posted on 30 Nov 08:20 am
A blog reader/speedskater sent me a very nice email, including this image. And it's worth sharing-
This winter scene of a natural ice skater, cruising long with his hands on his back is truly a "hallmark moment", and I do mean that literally.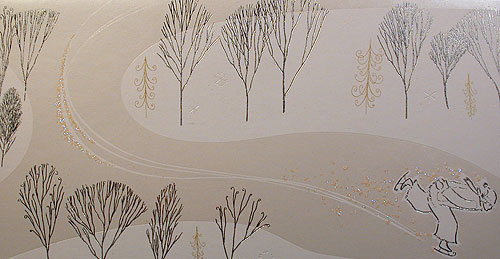 Here is what the artist wrote to me:
My work here in Kansas City has been at Hallmark Cards - as an illustrator. A few years ago I designed a Christmas card I hope you might enjoy.

I thought I would share it with you out of gratitude and respect for a fellow skater and designer.

Anyway, the card is finally in the stores this year. To have anyone in the "real" speedskating world aware of it and even send it would be more honor than I could handle.

Thank you so very much for such great work! I enjoy your writing, your point of view and dedication.

-Ken Sheldon
I asked Ken where a person can buy this card, because frankly, I'd like to own a box of them.
Currently it's available in the set called "boxed Christmas cards" and also can be ordered via their paper catalog (& in hallmark "gold crown" stores), however currently there is no online link.
The card has metallic foil on the skater and trees & there is glitter on the skate tracks. So I think the hardworking pixels of the internet do not do this image justice.
Thanks Ken!
(and thanks also to the managers at Hallmark, as evidently there was quite a vigorous discussion about my query if it's ok for this image copyright of Hallmark Inc. to appear in blog-land.)
6 Comments »
Filed under: from home