Posted on 31 Dec 08:46 am
You can see the results for the Men's allaround & the Women's allaround at the new DESG website (check out their ability to track individual skaters time progressions in each distance over their career, very cool! even though it does not account for indoor/outdoor races).
A 2-time Olympian once told me:
"Look, there are a LOT of different training philosophies in use around the world. The Canadians go fast, the Koreans go fast, the Dutch & Norwegians go fast, the Japanese are amazing, all of them train in radically different ways.

So there absolutely is more than ONE way to train & be good. The important thing, really, is to believe that your way is the best way for you.
This was never proved more clearly than by the results of US LT nationals 5k, check out this list.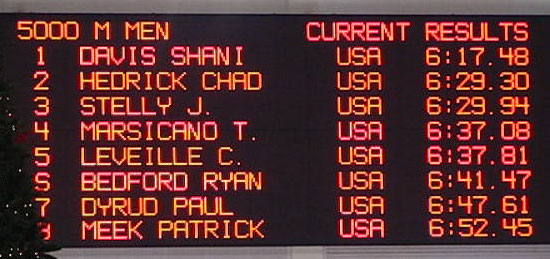 3 guys who train mainly on the short track, 2 inline/ice mixers, 2 who train the "conventional long track ice way", and from what I understand, the winner Shani does a pretty even split of long & short track.
Also notable in this result is the "coonpup" Justin Stelly. His mom picked a great week to come up from Louisiana & see her son announce his arrival as a true force in US distance speedskating.
Speaking of Shani, he and Catherine Raney were absolutely dominant in the allaround. Catherine was even training through this competition, as her true focus is the world championships. She said she was tired, but certainly did not skate that way.
Many ways to go fast! in 10th place in the 5k was my friend Keith, in a huge achievement representing an astounding amount of work. If Keith skates the qualifying time (you must do both a top 10 at nationals and skate faster than a time standard), he earns Cat I next season!
Here he is, smiling, giving the "10″ sign, or maybe its just "8 V's of victory".
When I start in the inner lane, this is what the scoreboard reads, it's good for a laugh on a stressful race day. I was in a pretty early pair, and after this race, Justin Stelly & I got to be on the top of the leader board for a while. A nice feeling.
National allaround team member Ron Macky & I have had a running joke this year. When he beats me in the 500m, he takes away my "sprinter card." When I beat him, I get my "sprinter card" back. We have been within .1 or .2 of each other every weekend.
Look what happened in the final results from the allaround 500m!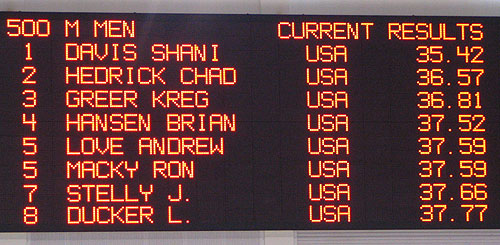 What do Ron & I do? Do we both have sprinters cards now? Or do we have to split it?
Unfortunately the next day, Ron developed a serious fever, and was not allowed to finish the allaround. This was his 10th year skating US LT nationals.
Kaari Cox & Charlie Mahoney were skating their very first USA nationals, congrats to both of them in how much hard work it takes to get here!
Kaari is 44, coached by Matt Vraa & skates in Minneapolis. Charlie works with Bob Fenn in Milwaukee. Skating for Bob makes you tough (or dead tired), and Charlie skated tough.
Caleb Eaton, also in his first nationals, got the ferocious cold that was going around. Train your brains out for several years to qualify, and wake up the day of the races feeling like dogcrap. Life can sometimes suck.
He skated some tough races in his homemade green skinsuit.
There was a lot of holiday public skating going on, so the Utah oval did not shave the ice down, so times really were not fast like crazy fast ice can make them.
Kate Ortega traveled down from Alaska to the lower 48, to watch her son Liam race.
There was A WHOLE BUNCH of short track nationals skaters who raced LT nationals. Probably the most successful being Charles Leveille & Ryan Bedford.
Leveille is just so dang strong. I love the curve of his back, like a spring that puts a ton of pressure through the back part of his blade. When I bent the back 2 inches of my left blade crashing earlier this season, entering corners is when I felt it the most. Leveille is a 2006 Torino Olympian, he was 3rd overall at US short track champs, and 4th in the LT Allaround.
There is no award or term for that, but maybe there should be-
Carla Langenthal is sitting next to me as I write this, and she mentioned that she felt like at Nationals this year she ended up watching people for more the quality of their skating, rather than just watching times.
Our first Nationals was 5 years ago, and maybe Carla & I had the most fun at that one, as we were just so happy to be there. Since then, we expect RESULTS from ourselves.
It changes the game.
Erica Lanser, pure guts & glory & pain & the last lap of a 3k! She misunderstood what lap was her last one, so her finishing sprint to the line was quite a bit longer than she had planned on.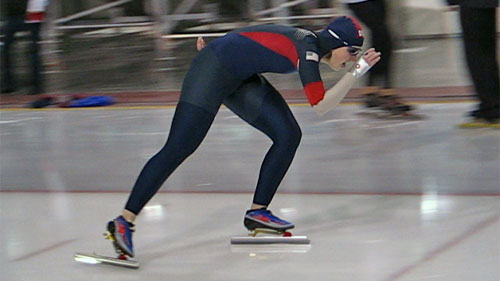 She was coughing so much the remainder of the day, her brother did not want to leave her alone at the restaurant during lunch, he was so concerned Erica would cough & choke on her food.
Some of the people I like look to for skating quality are April Medley and Maria Lamb, this is what you call a LONG PRESSURE MOMENT, these skaters just hang on their edges a physics-defying amount of time. Mia Manganello is chasing Maria here.
Rather unusually for a speedskater, Maria does a lot of training on skate skis. THAT is a wonderful sport, almost as much fun as cyclocross!
My body is fried like a burnt egg after 4 days of racing. But my brain is fine, and I'm working on the sprint entry & videos for both competitons right now, much more, very soon.
4 Comments »
Filed under: RACE DAY