Posted on 29 Feb 02:51 am
The clouds crack open at dawn, a whole planeload of travelers sit blearily upright, and suddenly the density of Europe sprawls underneath.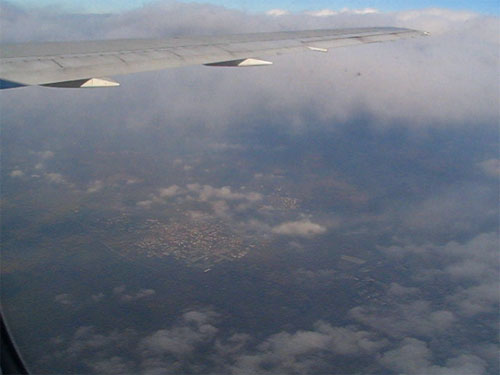 European trains rock! This is the futuristic ICE train from Frankfurt to Erfurt. ICE= Inter-City-Express. It looks more like a gleaming rocket than a train.
To the right is the tattoo of the engineer. I don't know why I found this so funny, but I did.
I have comfort in a high-tech train being piloted by a huge man with a big tattoo.
When the train started moving, it was so gentle & silent, that I did not realize we were moving for about 30 seconds, then I looked out the window and saw the world whooshing by.
Immediately to the ice in Erfurt..
Here is the live webcam link to the rink. You can see the feel of the place… As the cam refreshes every minute.
Here is the outside of the Hall, it's actually not that huge, as facilities like this go, nothing like Hamar or Salt Lake. Erfurt blends gently into the hillside.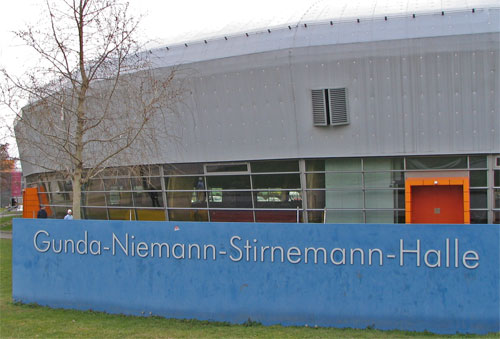 The rink is quite good, the lanes are narrow & tight & the ice is very hard. It will be a challenging place to rip a 500m, but a great place for distance races.
There are many good folks here from many nations; we are having a lot of fun… for example. Here a is a quote from Star Wars & following goofyness.
Ben Kenobi: I suggest you try it again, Luke. This time, let go your conscious self and act on instinct. (Ben puts a helmet on luke)

Luke Skywalker: But, with the blast shield down, I can't even see. How am I supposed to fight?

Ben Kenobi: Your eyes can deceive you. Don't trust them. Remember, a Jedi can feel the Force flowing through him.

Actually, this is not a blast shield, it's a Delta airlines eye cover that I was given on the flight over. It matches my suit perfectly.
And one must certainly feel the "force" flowing. Even if it is just the force from your body through the skates & into the ice. Try too hard and you go really slow..
Here is part of a mural in the hallway underneath the ice rink. There is lots of Graffiti in Europe, very, very weird.
Lest one thinks that this is just a blog about old folks, I have a thought for the junior skaters out there. After the master's sessions, I see groups of young Germans (top) and Romanians (bottom) take the ice, and they are quite serious & focused in their training.
Train hard, dream big! and junior skaters, if you ever make the world cup level, the focus and intensity you "put in the bank now" it will help you compete better.
And even more importantly, if you make it to that level, these folks might be your friends someday.
Americans NEED to travel, we need friends from other countries, we are so isolated! (physically, media-culture, and psychologically. Yes we have neighbors, but they are very quiet, or maybe we are just too loud to listen to them.)
I've greeted many old friends here, people that I met for the first time at Master's meets 4 years ago. Travel is a gift of skating, as are the people.
I had dinner with the Italian team a few nights ago, what wonderful people, what a family of sportsmen!! They have 4 Olympians in their group of 13, and 5 time Olympian/world champion Roberto Sighel is one of them.
The draw was held in a huge, ornamental hall filled with 200 athletes of all ages, from 12 different countries. I wish I had panned up to get the multiple chandeliers. Masters worlds are a big friggin deal.
They have a supercool computer program that randomly picks names on the right, and fills in the pairs on the left. I think "wunderbar!" is the right term in German.
I was relieved, with the tightness of the track, to have the inner start/final outer in the 500m
Travel is great, but we are here to race, and I have a job to do..
I race the 500m in a few hours, and when I think about it, my insides start shaking, and I must repeat to myself, over and over.
YOU PRACTICE THIS ALL THE TIME, YOU WORK HARD, YOU ARE 100% READY.
11 Comments »
Filed under: from the coffee shop