Posted on 30 Mar 09:40 pm
The excellent Tom DiNardo sent me a number of images from the Salt Lake World Cup.
This race did happen a few weeks ago, but good images like his are not confined to a particular time or place. His camera captured some truly wonderful moments.
Shani Davis and the German 500m specialist Jenny Wolf were some of the most closely watched skaters coming into the competition. Put them on the fast ice of Salt Lake, and world records could fall.
As fans of skating know, Shani set the 1,000m world record.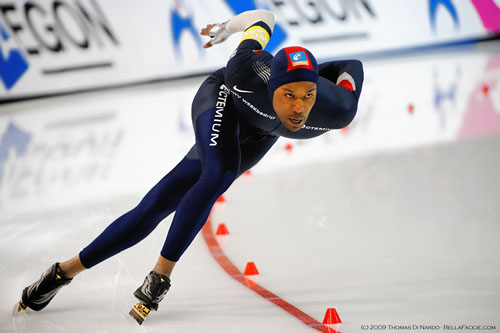 And then he got the honor of putting his name on the wall of names. The 1k and 1500m really mean something to him. They are his races, and he was very happy.

Jenny Wolf had a much more difficult race. She is unbelievably strong and snappy & can focus it through her powerful technique.
But she slipped a number of times. Including here at maximum pressure in the first turn.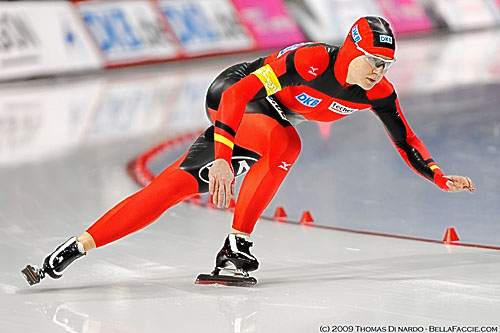 Canada's Kristina Groves won the 1500m event at the Salt Lake world cup final. I am not sure what part of the race this is from, I am guessing about halfway through. You can see the effort, but the technique is still together.

Speaking of blazingly fast Canadians, Brittany Schussler is taking 3rd place here in the 1,500m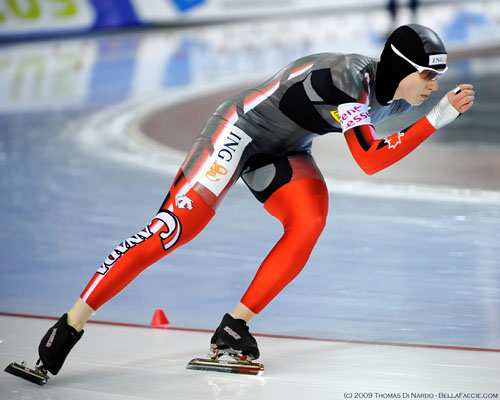 Since Casey Fitzrandolph retired, Enrico Fabris is now my favorite skater to just sit and watch in total awe at his smoothness.
On this day, I put down my camera and watched his smooth as butter 5k. Good enough for 4th place. Smooth even through the tremendous effort.

Trevor Marsicano is an up and coming star. I don't think anyone disputes that.
He ended up 7th in the 5,000m and 2nd in the 1000m, for a brief few moments, he had the world record.
Here he is in the 1k-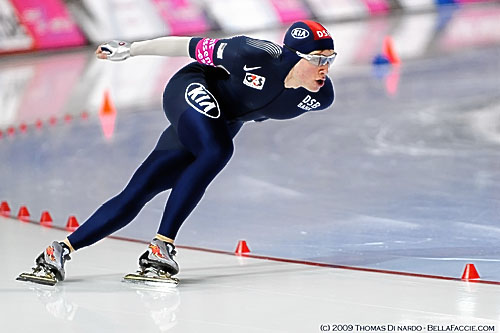 and then the slightly different, more groovy body position of the 5k-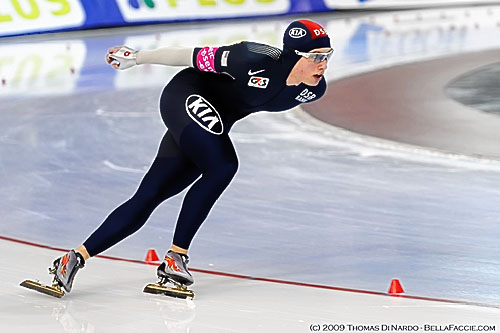 Tom did not just point his camera of the stars. One of the first things you see in the world cup is the huge effort of every skater, not just the top ones.
Tomomi Okazaki of Japan, 14th in the women's 1000m. I dig those skates, and the driving athlete using them.

Maria Lamb finished 18th position in the 1500m

Ireen Wust of Holland. 11th place finish in the 1000m.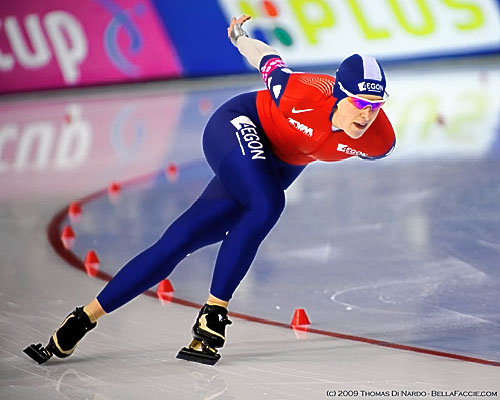 No Comments »
Filed under: News