Posted on 24 May 04:04 pm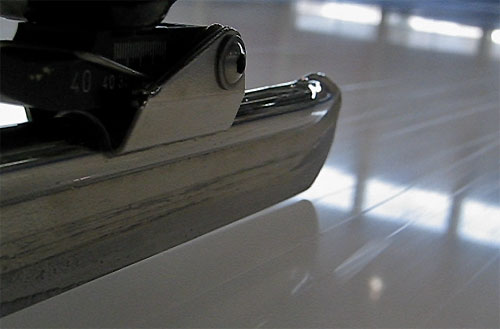 For both short track & long track, my blades are 17.5 inches long, and 1mm thick,
Measured on a flat surface, depending on the blend, both blades have only 50 to 70mm touching ice at any one time. They probably do sink into the ice a bit during a hard push, but still, the "balance point" is under 3 inches, and can be as little as 2.
All your weight, on one leg, projected thought that tiny spot, at high speeds.
It's amazing we can even skate at all.. And it is why the balance & proprioceptive skills needed for ice speedskating are so demanding, and a true mind-warper to try and perfect.
Inlines are, of course, different.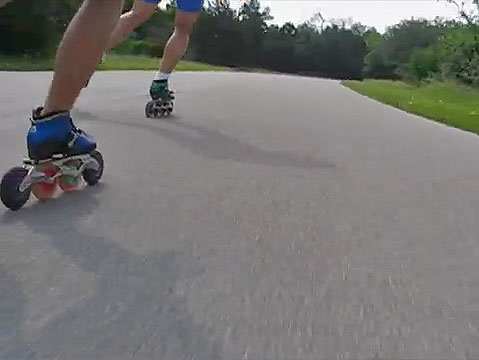 It's hard to measure these 4 contact points, as they are squishy urethane. But inline has it's own unique challenges, and although not nearly as precise technically as ice, it's still brutal when you try to excel, to be your best.
At once point I thought the balance point of a solid ice speedskating stroke was the hardest balance to achieve. Then I became a dad, now I am balancing:
Fatherhood
Being at least a passable husband.
Work Work Work! Blogging about work is never smart. But I just wrote my own job title & description at work & things are thriving.
Trying to still be an athlete of some sort.
Blogging/Writing/Thinking
This must be the hardest balancing act for a person. I am sure the competitively minded are challenged by this balancing act frequently. Honestly the first thing to go has been blogging, then training takes a hit.
Although I need to stay at least physically active enough to keep what Winston Churchill called the "black dogs of depression" at bay.
Sometimes they bite at my heels, and that gets me out the door to the gym, or on the bike to turn the day around. Maybe I should thank them, they are an impulse, and can be fed, can become almost tamed. I rode them like a horse to all sorts of facinating places.
But it's damm difficult to balance. I love my life right now but I have no time.
Time… Time… Olympic trials are 5 months from today.
Balance—- Balance—-
4 Comments »
Filed under: from the coffee shop