Posted on 31 Jul 02:48 pm
In the building known as the Utah Olympic oval- (my favorite picture I've ever taken of it, august 25th, 2006)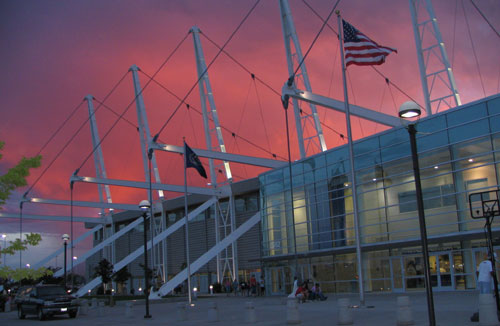 there are emotions building, a sensation in the air like a strong heartbeat awakening during a warmup.
Training groups are that one notch more intense, people are more focused, fitter than ever. This is an Olympic year, and you can feel it.
The short track national team is one of many groups who are training crazy hard. Travis Jayner told me it's been some of the hardest weeks he has ever experienced. In this picture is ice, free standing water; determined human bodies who average 61.8 percent water content by weight whipping around & around.
Reflected in the water, the reason for this building to exist.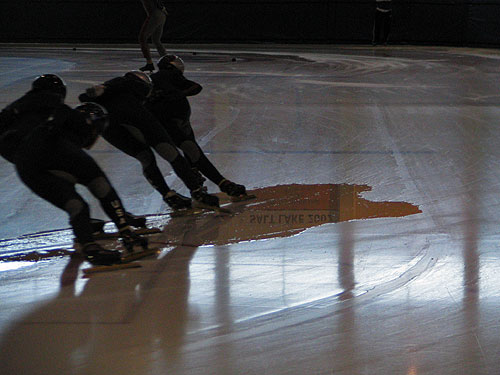 over the shoulders of the athletes themselves, it always hangs, those Olympic rings on the wall-
These are some of the young sprinters from Kip Carpenter's Milwaukee based Swift Speedskating team.
I've been tagging along at the back of this group 'O studs for some intense workouts, and one would never know that at the end of the day, these athletes will be competing with each other for Olympic team slots.
There is an intense community among this group, and among the wider society of skaters at the oval. The friendships are obvious, as well as the stress that comes from a competitive environment that is all focused onto a few days of racing.
When Speedskating is good, it's really good, but when you aren't going well, it's a hard road.
Maybe the goal of skating ridiculously fast in a frozen circle warps all who attempt this circumnavigation. But I know one thing for sure, when you have ambitious goals, it's easier when you have "Swift" friends along for the journey.
4 Comments »
Filed under: from the coffee shop