Posted on 30 Dec 08:24 am
The 1500m will drop you into the deepest recess of the pain cave. Even when you are on your way to a personal best, or an Olympic team, it arguably hurts more than any other moment.
In fact, one of my favorite videos I have ever done for this website, was all about the 1500m. The soundtrack was the Police song "king of pain"
The women's 1500m has an unusual twist to it, as it was not clear if we will have 3 or 4 slots at the games. So the winner of this race might go to the Olympics, or might not.
The Vancouver games will be Catherine Raney-Norman's 4th. She has been the dominant skater at US women's all-around nationals for several years now.
It's not that way right now, other athletes have matured and raised their game to meet the RaneyKat. She was good for 4th on this day.
I was publishing many photos of the "ugly" moment of a crossover, as I belive this early pressure is what creates speed. But Anna Ringsred skates so precisely, why publish any moment but this one?
Interesting how identical her angles are to RaneyKat's above. The slight differences in blade setdown and shoulder height are proabably because Catherine is about 120 meters into the 1500, accelerating, and Anna is about 520 in, maintaining top speed.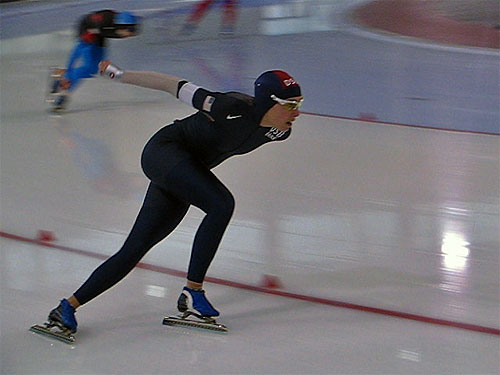 Again, I missed the winner of the women's event. Heather Richardson was clearly the fastest. But it's not clear if she will skate the 1500m in the games. It's all bound up in ISU rules that read like ancient Aramaic. She will already skate the 500 & 1000.


On to the mens 1500m!
Here are the last few steps of my friend Keith's speedskating career. Is it fitting that it's the final straightaway of a 1500m? He has worked so hard, for so many years. Good luck Keith…. don't go too far away, ok?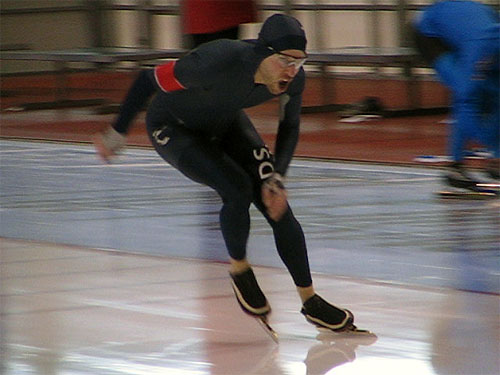 Connor Slivocka, showing some teeth in the last 100m. Connor is still young, and going man fast. You will see him around for many future Olympic trials.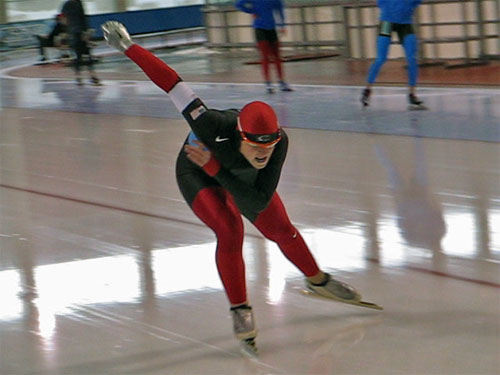 Michael Stein-Stewart, on the pads. Is he dead? No, you can still see the lungs heaving…..
Mike is a classy guy, and a skater with tremendous corner technique. I do not know if he will continue with skating, but I do know that if he retires, the Utah skate tribe will be less without him.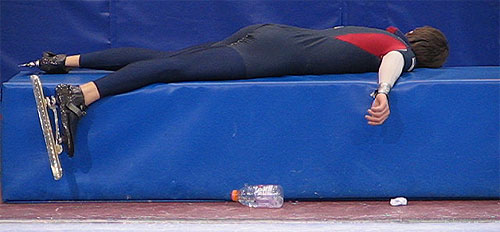 Pat Meek and Ian Baranski, Veterans. Working. Sacrificing. At the rink ALL the time. Ian even has a law degree, and came back to speedskating, for his shot at the team.
The 1500 is not their best race, but they skated personal and season bests today.
Brian Hansen was one of about 5 guys who could have won that final 1500m spot. He had a tremendous finish, and won the Olympic team spot in a nail biting race with Ryan Bedford. They traded the lead several times.
There is a reason Brian is the current junior world record holder.
Actually, it's not one reason, it's a whole bunch of reasons working together to be able to achieve something like an Olympic team.
The platitudes of talent + hard work & good coaching certainly count as reasons, but in the most brutal distance of the most brutal sport, to go Olympic fast you must have a shouting army of reasons strengthening you when that last lap sets your body on fire.
Here are two important reasons of why Brian is strong. Mom & Dad, so proud.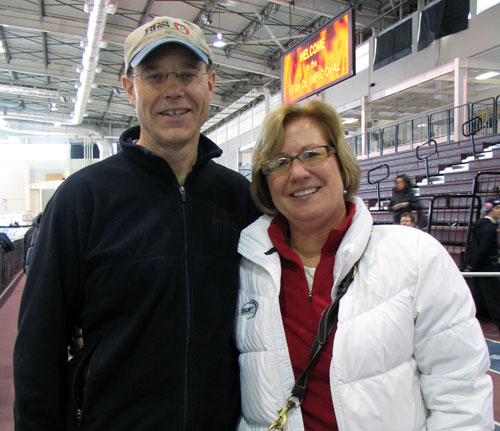 2 Comments »
Filed under: Olympic Trials