Posted on 01 Jan 02:10 am
"I really went for it in that race, and I was really deep in the pain cave."

Brain Boudreau, talking about his 1000m on day 2
I overheard my friend Brian saying this, and it just stuck in my head. The PAIN CAVE!!
That so wonderfully describes that deep place where focus and determination meet searing agony. In most sports, especially team sports, the objective is to either dish out pain, or avoid it. In metric speedskating, often the objective is to find the deepest pain cave that you can, and enter it willingly, as the more pain you can absorb while keeping the technique together, the faster you go.
Here are some beautiful Pain Cave moments from the 1500m on day 3. This is Chris Callis & Derek Parra, two experts of pain cave spelunking, 350 meters from the finish of the 1500. Ouch. Parra, against all odds, threw down a fantastic race, passing Chris on this moment, and grabbed that last Olympic team 1500m spot. Chris poured his soul all over the ice this week, skated with class, and just missed another Olympic team.
On day 4 Chad Hedrick set a world record in the 10,000m. Skating his 25th and final lap at 28.9!! That is faster than many peoples last lap in the 1000 or 1500!! What a mutant! Here is his final step through the longest of speedskating's pain caves.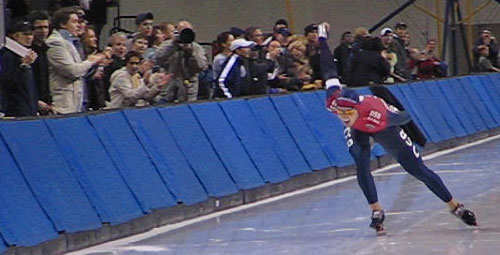 My friend Carla Langenthal continued her excellent trials, skating a fine 8th place finish in the 5k. Here she and Heidi Miller-Shockley are being urged on by their coach on the final lap. Note the fine technique of all three of these people!
I had my own lovely moments in the Pain Cave myself. My wife, brother, mom, and many friends are all sick, and I am slowly catching it. From the exciting stuff I was hacking up from my lungs, I knew before my 1000m race that I would have to have to be really fast through 600m, because after that, it was going to to be a deep trip into the lactic underworld.
I practiced my first 300m over and over in warmup, checking every aspect of technique that could launch me into top speed. I resolved to simply make this 1000m a maximum effort from start to finish. This is often called "skate-to-die". When it works, it can really work, but when it goes bad, rigor mortis sets in and the finish line is an eternity away.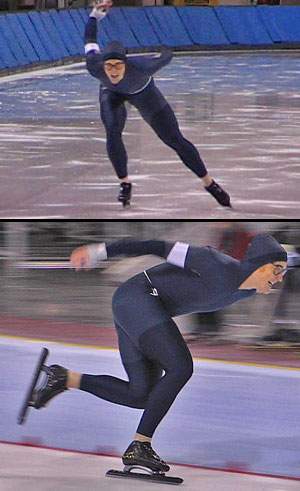 When the race began, I scorched the first 200m in 17.19, and my first lap in 26.44, both splits were my fastest ever. For one of the first times, I could hear my coaches screaming my lap spilts at me, so I knew I was on fire before I felt the flames. It started to get truly ugly in the final backstretch, and by the middle of the final corner, where this pic is from, I had locked completely up. However the ice was so fast, and I had such velocity, I slowed down to a 29.59. A new fastest final lap too.
I risked, and it worked! a fantastic new PB, 1:13.22!!! 1.2 seconds faster than my previous 1k at trials! I let out a howl of happiness, and then just about collapsed (well, coasted around with my head between my knees). I do have an image of my face from about 30 seconds after the finish, but its so horrible looking, it doesn't look real, and people would think I was mugging for the camera if I posted it. I kind of looked that that villian from the horror movie "scream" but with a reddish tint. It was almost 10 minutes before I could move easily again.
This has been the season of the 1000m so far, I have improved almost 4 seconds from last year's 1000m PB of 1:17.10. And my 500m only by .35
This past August I asked Boris, in a joking fashion, "what do you think my best 1000m time for this year will be?" After a short and intense ponder, he said "Oh, probably a 17 opener, 27 first lap, 29 second lap, a 1:13 final time" I looked at him like he was nuts, but that dude has a skating magic-8 ball that speaks truth somewhere in his mind, and he has been eerily right over and over (and not just about me, he has done this accurate time prediction numerous times).
It has not really emotionally even registered at all within me that it is 2006, even with the nice party I went to this evening… Other things have been taking all my brain cells, I think I burnt them all up lighting my way through the pain cave.
Happy new year… (what year is it again?)
Filed under: Olympic Trials