Posted on 22 Jan 06:14 pm

When last heard from, this traveling skateblogger was updating from a gas station hallway, it was raining/slushing outside, and he was going to race shortly… the story continues…. (now I am writing from the Munich airport, killing a few hours before my flight home)

As I was doing my pre-race warmup jog, I noticed Pat Kelly intently watching a German drilling holes into the ice and setting up the electronic timing. As we peered into the very deep hole he had created, I remarked it looked more like an ice fishing hole than Long-track racing ice, Pat said, "yeah, that is some thick ice, at least 9 cm".
Most of the time, Long track racing ice is 2- 3cm thick. Ice thickness makes a true difference to top speed & the effort needed to maintain top speed. The difference between Salt Lake ice during Olympic trials, and the ice in Inzell today is similar to the difference in feel to riding a road bike along an asphalt road or across a grassy field. There is an ice-motocross event next weekend at this oval, so they are probably trying to thicken things up. Lucky us.
And the rain/snow mix gooping from the sky, and the thick, damp air, does not help things much either. There is a headwind on the backstretch, but it's slight.
The rain stops as the races start, and I see many masters skaters I know going half at second or more slower than Davos or Hamar. The air gets a bit colder, after a resurface, the ice even looks passable. Pat Kelly opens his 500m with an excellent 10.2 for his 500m, faster than he did at Davos, but his final time is .2 slower, a 38.2
Boris skates a great 39.5 for his 500m, and continues the North American sprinters assault on the master's records!! Go Boris! Here he is driving for the finish.
In my previous post about racing at Davos, I talked about speedskating hip positions illustrated with a great picture of Pat Kelly and myself. I showed that pic to Boris, and since then he has drilled me over and over, both in Collabo and Inzell, on this one simple aspect to technique, to drive my left hip more deeply into the turns. It's a simple, difficult, maddening thing.
By this time in the season, I am on technical auto-pilot for most of what I do, and can focus on fine tuning. When it was my turn for the 500, I had not paid any attention to the other skaters in my age group at all, so I felt pressure on myself to go fast, but was relaxed, because after all, there won't be fast times skated today.
Bang, I am off the line like a shot! Down the first 100m in 10.35 I hit the first turn really well & feel the new hip angle giving my left leg more power into the ice. I slam out of the turn and fight extra low and hard through the wind on the backstretch.
Boris is standing right at the entrance to the final outer corner, screaming something. I am too focused to hear it, but the image of him, and his body language urging me on, I will remember till my dying day. As I whip by and set the corner, I glimpse him break into a full running sprint so he can see the whole corner.
I set the turn well, sink into it & focus on that low-hip feeling. I build that turn like I have never built a final outer turn in my whole life. Feeling the extra power, I get greedy, and try to throw in more crossover steps in than there is space. I miss the pads with my right foot by a whisker, and as my left foot is crossing over, I skate on the edge crust of the track for a split second.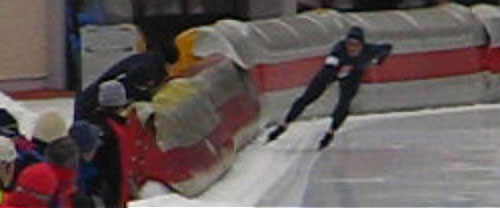 Now riding a slight tailwind, I drive that last 100m with everything I have left, You can see the amazing Italian men urging me onward. Fortza! Fortza! Die Die Die! Andrea! rings in my ears! Like many truly fast races, this looked a bit wild & out of control at moments, but it was VERY effective.
I cross the line, 37.47!!!!! A crazy time for these conditions outdoors, and another lowering of my 500m record! I am stunned! Ecstatic! How do I deserve this amazing life! As I coast by the stands, the crowd is applauding, The skaters on the warm-up track are a barrage of high-fives & smiles. I see Boris jumping around with a huge grin on his face. I point at him, begin my own applause and start saying, "it's all his fault!"
I am the Canary that ate the Cat! Who knows how fast this effort would have been in Salt Lake, but it would have been roughly in the middle of the group racing in the first day of the men's 500 world cup in Inzell last month (and they had to be skating in better conditions than there were today!!!).
But maybe that is not a fair comparison to make, because it's impossible to compare conditions day to day on outdoor tracks, and before I get too full of myself, I must say that later that day in the Planet-Ice rinkside bar, watching the 500m races from World Speedskating Sprint Championships on live TV, a couple of Swiss Masters Skaters kidded me as to why I was skating masters races, and not skating world sprints? They pointed out I was faster than some skaters who were competing at world sprints. Just as they were saying that, Casey Fitzrandolph and Kip Carpenter appeared on the screen to skate their 500m races, I pointed to the screen and said, "That is the reason I am not skating world sprints, the US sprinters are all absolute studs, and there are a whole bunch more fellows in the US who are waay faster than me, several of whom are OLDER than I am."
A Russian then joined in with kidding me "But you have your world record! No?" as I have said before in this space, there is no official masters world record, it does not exist, and it makes me feel odd to call it a world record. So I said "Naw, it's a Master's International record, a cool thing, but there is no sanctioned world records for Masters" he looked puzzled for a moment, then brightened up and said in an extremely thick Ruski accent "ok, then it is a Galactic record!" That cracked me up! Fastest 35-40 solar orbits carbon-based life-form traveling over solid h2o in this Galactic region? I will accept that! sanctioned or not!
I was lucky to have had that narrow window of halfway decent ice to race at least once on, as the fickle mountain weather closed in hard. Warming up for the 1000m, the wind came into the stadium, and swirled around, and seemed to be a headwind for most of the track. Racing became a bit more a rationing of effort. In outdoor & windy conditions, things get funky. I skated a steady 1:17.38, being conservative until the last 400m. After the results were tallied, I was solidly in the lead of the 11 men in my age group, and also on track to break the sprint samalong record as well.
After racing, Boris & our Norwegian buddy Arne jogged 20 minutes for warmdown. I could barely follow them. After only 800m, my body was crumbling like a dirt clod in a rainstorm, abs & calves cramping and crusty. I would swear at that moment that I was no athlete of any kind, just some worn-out lame-duck who needs a hundred tabs of advil, and a week in bed.
Sunday dawned with a foot of new snow on the ground, and it just poured snow all day long. Racing became as much survival oriented as speed oriented. Boris smacked a wall pretty well in his 500m, but was ok, I thought that I skated another excellent 500, but was a full second slower than on Saturday. By the time the 1000m races came around. It was snowing silly hard, skate blades were parting the snow like the wake beside the prow of a boat. I hope these two images give you a good idea. (I know Boris well enough to know he is gonna look at these two pictures here and start working on my funny arm swing, I really swing my shoulder when I am accelerating, not my elbow/arm like one is supposed to)
Gotta love racing outdoors! It certainly is character building sometimes! Boris and I certainly suffer from an excess of character! After all the races were over, and the results were tallied up, Pat Kelly and I handily won our age groups & set new sprint samalong records, Boris's crash cost him the overall in his. But he was not upset, as our good buddy Arne stepped right in with an excellent final 1000m to take the overall.
This European racing trip has been an astonishing experience. I am glad I was able to share some of it with you here.
Ugh, its 2am here in the Munich airport. I chatted with one of the security guards who said there is an all night coffee place in the terminal somewhere. I need to post this. As I get some of the pictures I took organized, I will make up some galleries of images of Europe, but right now coffee is the mission.
Thanks for reading…
Filed under: on the road, sweat