Posted on 23 Jan 01:41 pm

Home, Home again
I like to be here, when I can.
When I come home, cold and tired
It's good to warm my bones beside the fire.

Far away, across the fields
The tolling of the iron bell
Calls the faithful to their knees
To hear the softly spoken magic spell.

-Pink Floyd
The Dark Side of the Moon
I found myself mentally replaying this album on the long flight home, Pink Floyd meant a ton to me in high school. Still does.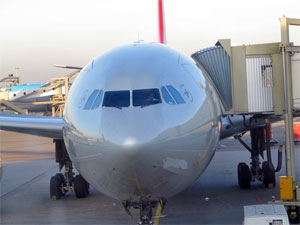 I still think jets look like weird fish. This is the one that carried me from Amsterdam to Minneapolis.
However it was still some culture shock upon deplaning in the USA, 2 things leaped into focus:
HOT DAMM! ITS GREAT TO BE ABLE TO READ A MENU AGAIN!!!
WHOA!!! INCREDIBLE NUMBERS OF AMERICANS ARE FAT!! BUT AT LEAST WE DON"T SMOKE EVERYWHERE LIKE SOOOOO MANY EUROPEANS!!!
I GUESS EACH CULTURE CHOOSES IT'S OWN POISON!!!!! BUT I CAN"T RECALL WHEN SOMEONE ELSE'S BULBOUS & JIGGLING TUMMY MADE MY CLOTHES STINK, EYES ITCH, AND DEADLY CELLULAR MUTATIONS IN THE LUNGS!!!!
Another award needs to be mentioned here as well, the Minneapolis airport gets the baggage claim nightmare award.. . there were 1000+ pieces of unclaimed luggage from canceled flights strewn everywhere, and very anxious Japanese tourists searching the mounds. Luckily I found my own 2 needles in this haystack. There are advantages to having strange looking luggage, I travel with a duct tape swathed, battered tool chest for my skates & sharpening equipment, it was easy to spot!
Wow.. it's great to be back… I did not miss the USA when I was on the road, but being home, I went straight to a Caribou coffeeshop (a decent midwest chain), and just inhaled some American black gold… When you order a large coffee here, you get a really a nice gallon sized cup that can really make your heart pound! It's good to be back!!!
Filed under: on the road