Posted on 29 Jan 09:14 pm
I am stuck to the couch tired, but for a good reason.
I skated very well today, and won my 2nd North American pack-style championship, setting another 500m pack record (37.4).
But this was a meet that was in many ways about kids, and when you watch endless streams of 14 year olds blasting through 500's, it's possible to feel optimistic about the future of speedskating, even though there were some categories that were almost empty.
This is the Ceremonial Group Shot of all the winners, along with the head Canadian & American refs. There are very likely some future Olympians among these younger faces. From left to right in the back row you have Jeff Edwards -the head American referee , Marty Haire -Northern New York, Laurent Dubreuall -Quebec, Mitchel Whitmore -Wisconsin Skating Association, Boris Leikin -Direct Member, Nathan Bernhard -Saskatchewan, Emily Hill -Alberta, Andrew Love -Northern New York (I lived in NY for enough of this year to still be a member) and Wayne Fleming -the head Canadian referee.
Kneeling in the front row, the guy is Heath Irvine from Alberta. I am not sure who is who among the women, but they are Lillian Iwaniszyn -Alberta, Ann-Veroni Michaud -Quebec, and Gillain Richmond -Alberta. (If anyone out there in blogland knows for sure, or if I got a face & name mismatched, please let me know.)
When I was there for this picture, I did not notice the flamey-scoreboard behind us announcing us as the 2006 North American Champions! Very cool! Walking on the ice for this shot, it was oddly sticky, like glass someone has spilled soda on.
Click on the image for a larger one.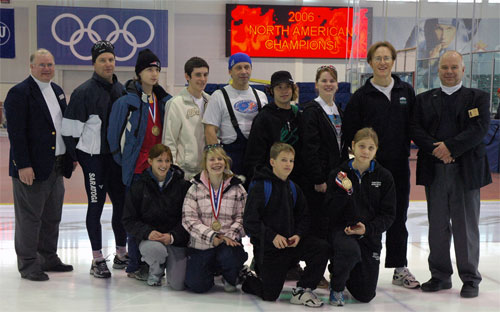 Filed under: from home