Posted on 05 Mar 12:34 pm
As I have said several times, the Masters International race this last weekend's exemplifies the best that there is in speedskating.
I had a post that focused on the race, and now here is one that is about the faces & vibe. I should have posted this earlier this week, but better late than never!
First of all, a recording of the national anthem, as played by Olu. I think every time a race director asks him to play, they should wave his entry fee as a thank you. You can hear a hockey game going on in the background, and the buzz of the massive fluorescent lights at the Pettit. But it's still Olu, and he can REALLY play.
Every time I hear the anthem, I think of our armed forces in the Middle East. It's easy to forget that there is a war going on right now. Much of America has effectively closed its eyes to the men & women in uniform who are serving & sometimes dying in Iraq. It's important to remember that for every death we hear about, there are also roughly 4-5 catastrophic injuries where the soldier lives, but loses arms/legs/eyes/hands/mobility. How many souls & families have been scarred by this war? There are people now on their 4th & 5th combat tours!! (also there are possibly 100,000 Iraqi civilian dead, mostly from US firepower).
Agree or disagree with our current foreign policies, it's important to remember what is happening in the world right now, and to live life in context, not as a "head in the sand" Ostrich.
Ok, enough politics, back to skating (see, I too am guilty of exactly what I just complained about above).
Here are a bunch of folks, lacing up for warmup, at a scary early hour of the morning.
The inline to ice movement does not just happen at the Elite Level; Glenn Corso is a member of the NYC area Empire speed inline team, and came out from Long Island to race. He does short track ice, and has a handful of days on the long track clap blades. He was right in the mix in the toughest category, the 40-44's, had a blast, and says next year he will bring a pile of folks from that very talented club. Fantastic! There also was a skater from the very active Team Caravan/Capitol racing group in Virginia, but I did not get a chance to chat with him.
One of the growing traditions of The Masters International is the Saturday night party at Olu's. This year was it's biggest and best ever. 40 of the 70+ competitors showed up for a huge dish-to-pass buffet, and Olympics watching. I wish I had a tape of the 'hollerin during Apollo Ohno's gold medal short track race, and shortly thereafter, the relay.
The fire was nice, also in fine form was Mary O'Donnell, The US rep to the governing body of International Masters skating, the IMSSC. Here she is, making some noise during the women's Olympic 5k, wearing a crazy Dutch hat she bought during a world cup at Herenveen. The little spikes & bells are like a dragon tail, and hang all the way down her back. I hear Mary's other sporting passion is rowing! Now that is quite the doubleshot of summer and wintertime lactic acid fun!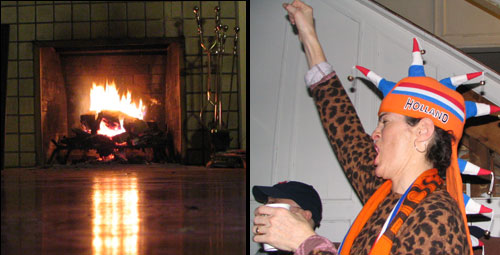 You can always tell when the Indy speedskating team has arrived at a race. Their towels, chairs, luggage, and full skinsuits are all Cheetah print!
I asked them about this, and they said at one of their earliest races as a club, they showed up to the meet with each member having 2 suits, they wore cheetah print on Saturday, and american-design motif suits on Sunday. Everyone asked them on Sunday "hey, were are your cool cheetah suits!". Since that positive feedback, the theme has grown and taken over.
Indyspeed skates inline all summer, short and long track ice in the winter. They are excellent examples of "allskaters" who participate in every kind of speed skating there is. I strongly believe in the "allskater" concept as an individual & club philosophy. It is a path for all-skaters to follow except for a tiny number of people trying to specialize in elite ice sprinting (I really miss being an allskater).
Check out the Indy speed website, their skating technique & annual peridodization plans are quite interesting. Also I LOVE THIS PHOTO, of several of them at the start line of the world team time trial championships (cycling).
I can see why their Coach, Cindi Hart, just won US speedskating volunteer coach of the year! I want to do a ZEN 10 interview with Cindy, as the first interview I ever did was with last year's volunteer Coach of the year, Jim Cornell. Hmmm, maybe this blog has been around long enough, I can start "traditions"!
Filed under: RACE DAY, Audio/Video