Posted on 14 Mar 11:24 am
This is the end
Beautiful friend
This is the end
My only friend, the end

Of our elaborate plans, the end
Of everything that stands, the end
No safety or surprise, the end
I'll never look into your eyes…again

Can you picture what will be
So limitless and free
Desperately in need…of some…stranger's hand
In a…desperate land

Lost in a Roman…wilderness of pain
And all the children are insane
All the children are insane
Waiting for the summer rain.
I played this song over and over in 1997 as I was finishing my graduate school thesis. It came on the radio as I was driving home from the oval after my last race of the season. It's somehow appropriate.
The insane children of the ice speedskating cult are pretty much all looking forward to some warmth. Summer rain would be nice!
Here are some of the faces & moments from the last race of my, and many other people's season. For the Utah Olympic Oval's Champion's Challenge they made ice as fast as the World Cup ice and Olympic Trials ice. Here are the full results of the Men's races, and the full results of the womens races.
This is Catherine Raney and Maria Lamb, 2 Torino Olympians, going at it in the beginning of a 3k. I had a nice chat with Catherine the day before, I had never really spoken to her, but she seems really cool, and already thinking ahead to 2010
Any skater who is trying to pursue this sport at a high level will tell you that it would be impossible without the encouragement and support of family. This is John Loquai finishing the last meters of really painful 5k, seen over the shoulder of his father cheering him on. John really went for it, and skated fantastic 30 second laps until about 4 laps to go, and then had a slow crawl through the pain cave the rest of the way.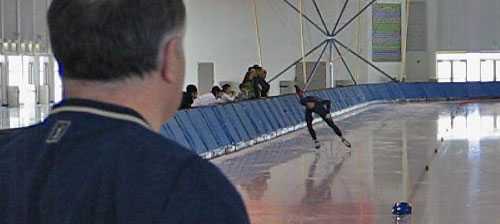 Like myself, 15 year old Andrea Mani is an escapee from the snows of Lake Placid, she and her mom moved to Salt Lake for the coaching and superior training environment. Here she is at the last lap of a 3k, Her mom is both videoing Andrea's race, and giving running race commentary via cel phone to someone!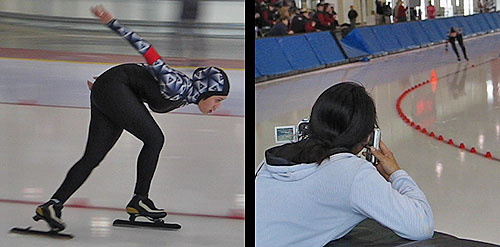 Like Andrea, my good buddy Jannicke Mickkelsen is a former figure skater now pursing speedskating. Jannicke also moved to Salt Lake for the training, but from NORWAY! (I love her Norwegian fast skinsuit)
Her parents came into town to visit & cheer her on. Jannicke tried super hard in the 1500m to set a personal best. Her first 700 was quite a bit faster than she had ever skated before. But she paid in the last lap, and collapsed as soon as she crossed the finish line- sliding into the wall right where her mom was standing!
Jannicke missed her PB time, but her mom is incredibly proud of her daughter's fighting spirit! Me too.
PB's are nice, but it's the spirit that creates chances to skate PB's, not the other way around. Jannicke has what it takes in her heart, body & soul.
My coach Boris Leikin and Tony Davis had a really close 1000m, Tony skated a big PB, moving so fast here that he blurred all the pixels in my digital camera. Boris has kicked & cut himself charging off the start line several times this year, his solution debuted this weekend, a magic green Kevlar sock on his left foot.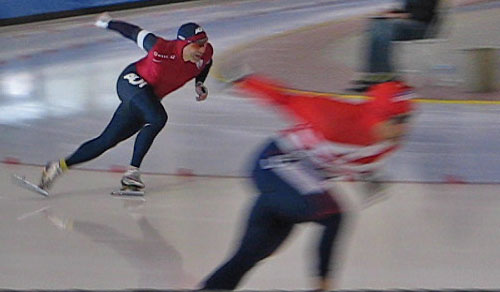 As for yours truly, in my last race of the season, something magical happened. Or at least it is the kind of magic that comes after working your tail off and then peaking well. I took another half second off my 1000m PB, and skated a 1:12.75. According to a learned Dutch Skate Stats gnome, that time is the 4th fastest 1000m EVER skated by a skater over 35!! This includes World Cups, Olympics, & all the time trials in Salt Lake, Calgary, & everywhere else. (These Dutch stats folks keep quite different lists than the IMSSC masters records I set this winter, but that is a whole other topic).
This dutch stat list has me with some incredible skaters (I posted the list in the comments), and it does not quite compute rationally to me how I managed to hugely improve my 1000m by from last season's 1:17.1 to this season's 1:12.75
I look at these pictures of that race, and see many flaws, on the straight away my knee moves outside the body as it recovers, my skate is not pointed down the track, you can see my upper body twisting from the effort. On the turns, my back is flat, not curled, and because of the velocity, I got pulled off the blocks. My left leg extension was also so much less than you can see my pair, Patrick Meek, attain.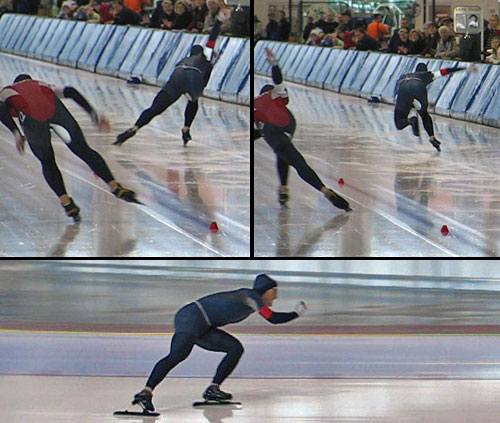 Maybe my self-criticism is a temperamental habit critical to ice speedskating, this is a sport of perfection during tremendous effort.
Flying perfectly, pushing hard, balanced on a millimeter of steel at 33+mph. If I can work my life out to make it happen, these little things are what I will work obsessively on this summer.
Gosh, what a great addiction this sport is.
Filed under: RACE DAY