Posted on 16 Mar 04:49 pm
I'm sure you have seen the cat-like Apolo Anton Ohno in action. He's not only the best-named man in Turin; he's also the deity of short-track skating…… To watch him skate is a joy. He slinks past opponents like a ghost. It's raw power elegantly applied.

Letters from a shrinking globe
This is not the first time I have heard speedskaters compared to animals. I have heard them likened to birds, pumas, greyhounds, bulldogs, cheetah, stampeding buffalo, racehorses, etc etc. My brother's Texan girlfriend, the first time she saw long trackers blasting along at 35mph with their racing hoods up, said this:
They remind me of seals, very athletic seals.
Short track nationals are this coming weekend. And although I will not be there (I truly suck at short track) I know many people who will be. The skill and agility of short track is truly one of the most amazing athletic things I have ever seen in person. Even non-speedskaters can watch the physics-defying skill, dramatic passing, & thrill-a-minute pacing. Its just as cool seeing kids do it as it is with the Olympians.
Catlike… that is short track. My cat Tortibella seems athletic enough to do short-track, no fear of crashing or of wiggling through small spaces, and she is certainly used to walking around with sharp things on her feet.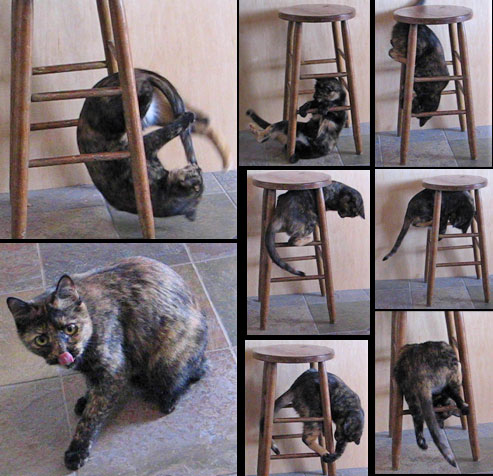 Are these pics evidence that I am going crazy without constant training? Not as bad as in the past. Actually Jess took these pictures, also I am posting these crazy images in part as a thank you to all those pet-folks who commented & emailed me about my lost dog post. There was some nerve that story hit, and the cat people out there deserve equal time.
However, I have a question, thinking about short track. WHY ISN'T THERE SHORT TRACK ON TV FREQUENTLY???
Short track is a tremendously television friendly sport, and why US Speedskating did not receiving any significant television coverage or revenues from this past Olympic trials is a great mystery of marketing incompetence. They should have had Olympic trials (read: the Apollo/Shani show) in freaking Madison square garden!! Or at least in some major NHL caliber arena. You could have had thousands of screaming fans & generate mothra-caliber buzz. I understand there is a pad-safety issue that requires an Olympic sized ice sheet. But there has to be a technical answer to that, the incredibly safe Calgary oval short track is not huge, has amazing pads, and they run top races on that thing.
WHY WAS THERE WAS NOT EXTENSIVE TV COVERAGE OF US OLYMPIC TRIALS!
The only reason I can think that this did not happen, is there was no do-or-die motivation or interest at the management echelons. People do what benefits them most, that is human nature. If the athletes got a ton of television, would they then start demanding more money? Speedskating is controllable at the size it is now, but if money/coverage/TV professionals suddenly show up, it becomes HUGE, and uncontrollable.
Heck, look at all the political pain & wrath unleashed when a tiny number of Long trackers started cashing in on their Euro-notoriety. What would happen if 10 times that came to short track?
Joey Cheek said in an interview, that the inline talent pool is drying up (all too true, the sport is 1/3 the size it was) and the next wave of talent will come from the Ohno-inspired short track scene. So IT IS do-or-die, in terms of continuing to grow the sport. Get it on TV, call someone the flying whatever, and skating will thrive.
I bet $5 there will not be TV coverage of this coming weekends NATIONAL CHAMPIONSHIPS. 99% of local high school football teams get more TV & Newspaper coverage than short track Natz will. There is something WRONG with that. Short track has EVERYTHING that appeals to American sports fans! Crashes, speed, grace, excitement, personalities, controversial refereeing, heroes from numerous backgrounds! Its ALL there.
Ok, I am putting away my soapbox. It's always easy to piss & moan than it is to find answers. I am no sports marketing professional, but I can RECOGNIZE WHEN THERE ARE NONE VISIBLE!
Here is an image I took from the stands at the 2002 games, this is the split second before the start of the gold medal 500m race. I have never heard a sound in my life like a few moments after this image, when American Rusty Smith took the lead in this race (well, yes, one other time, as a rocketfuel dragster went 0 to 300+mph in a few seconds). Click on an image for your own Desktop sized version.

Notice that each of these top skaters here has their own unique start line position.
This proves a theory I have, that your start line stance is like your underwear, a very personal thing, and although some people have similar tastes & ideal anatomic or stylistic inclinations, there is no ultimate right or wrong fit that can be applied to everyone. Just go fast like a cat, or seal, or whatever -and be ready to turn left when that corner arrives.
Filed under: from the coffee shop