Posted on 20 Mar 12:44 pm
I just did something I said that I would never do.
I bought a bathroom scale.
You have to understand a little background here & why this is important.
For several years of my youth, I dated a woman who had suffered terribly from anorexia. She came close to killing herself, and ended up in a hospital. Although she was very healthy in the two+ years we spent together, her eloquence in describing what she went through, and continued to wrestle with, gave me a lot of insight into how weight affects not just how society treats us as men & women, but even worse, how we sometimes treat ourselves.
In the years I was with her, I also personally changed from a 205 pound hockey player (who worked in an ice cream shop) to a lean & mean 170 pound bike racer. I noticed that people treated me differently after that, especially the opposite sex. That was nice, but I found it profoundly unsettling, after all, my soul did not change, it was just the body.
Since that 170lb Andrew of 1990, I have added close to 20 pounds of muscle, and that is normal, since I am older, and I do a power-based sport that has me in the gym quite a bit. However as an athlete, I do need to understand what I weigh as a matter of health. So once every month or two at the gym or at a friend's house, I would check. However to avoid that self-esteem crapola that goes along with it, I swore I would never have a scale in my own house.
Fast forward to about this time last year, my break in training after last season ended was about six weeks long, and in that time I gained a lot of weight, really fast. It took me about six months of astonishingly hard training to lose six weeks worth of careless eating and couch surfing.
Not this year dammit! Especially if life tosses me back into cubicle-land, and I am not working out 5+ hours a day, I need to be careful. So about an hour ago I stepped onto my new purchase with trepidation.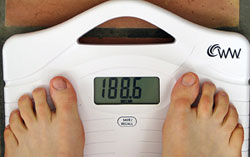 And I am pretty happy with what I see, anytime its under 190, that is good. I do weigh a lot for a guy who is only 5' 10", but it's healthy weight, that is if you qualify a butt as ginormous as mine is "healthy".
But here is my simple public declaration, now that I have this horrid thing in the corner.
If I ever complain about weight related issues here, you are all allowed to tell me to go jump in a lake (the lake of get-a-clue).
When I travel, I usually lose weight, despite sometimes eating HUGE meals for breakfast-lunch-dinner. Why? Well, the only reason I can come up with is that it's hard to snack when traveling, and you generally don't eat very late in the evening. That must be part of the difference.
I will never try to eat less, in fact, if it's healthy & protein-based, bring it on! I could never give up steak & coffee, and I don't think I need to.
For the next few months, I am going to think a lot more about timing of food. The answer to eating right is different, diet wise, for each person, this might be my silver bullet.
I only truly deserve the glorious nectar of the gods (I refer to, of course, espresso shots in a extra-thick chocolate milkshake) if I have gone for a REALLY long bike ride earlier in the day.
Now there is some motivation to get out and train! I think I might be riding the bike a lot this summer. Masters Track Cycling Nationals are in Colorado springs this coming year, in early August. I could fit that into my training. Hmmmmm…..
One of my brother's favorite blogs is Fat Cyclist, (that and the very weird stuff on my cat, somewhere between the two, the truth about my brother exists). Fat Cyclist is really funny, and although I don't read him regularly, maybe I should add it to my regular reads.
Filed under: from home