Posted on 01 Jun 04:13 pm
Visible in this picture, my only training partners today:
A turncable
A weight vest
A piece of paper with a gutbusting 3-hour dryland workout written on it.
A water bottle on its 3rd refill (it started out with Gatorade in it).
A stopwatch (it's holding down the paper in the breeze).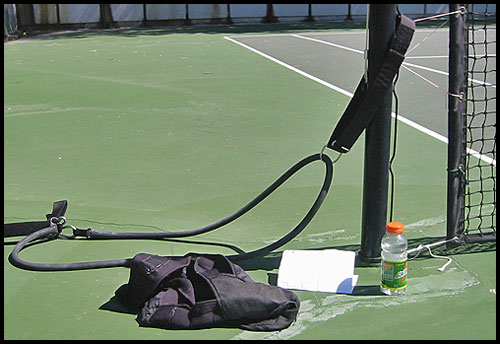 Not visible in the picture, but equally important, are a few other important things I try to bring to every workout:
A good night's sleep.
Good recovery habits between the previous workout and this one.
Delayed gratification temperment, (work hard in June, be strong in December).
Knowing exactly why dryland workouts are so important.
And most importantly, I brought what a martial artist I respect tremendously, described as "good spirit".
She swam through some seriously deep oceans of crap, and now runs a thriving dojo. Spirit has everything to do with it.
What is "good spirit" to her? It's part courageous imagination, part being positive in all types of "bad weather", and part good 'ol bushido tradition.
It was hot, I didn't feel great, my training partners, though reliable, are not great conversation, but good spirit carried me through a hard training day.
Filed under: from the coffee shop