Posted on 08 Jun 02:10 pm
I fear I'll do some damage
One fine day
But I would not be convicted
By a jury of my peers
Still crazy after all these years

-Paul Simon, Still crazy after all these years
16 years ago, while mountain biking on slushy Massachusetts February day, on the trails I met one of the most intense athletes, and astonishing persons I have ever had the pleasure to know.
Evan and I were both happy-go-lucky kids just discovering serious cycling, and discovering who we really were. He is my "brother-by-another-mother" and we have gone through a lot over the years.
He stopped into Salt Lake yesterday evening, and this morning, per tradition, we went for one of our usual mountain bike death-marches.
Here is Evan, cresting a climb. You can see rain moving through the valley in the background. Click on the pic for a bigger version.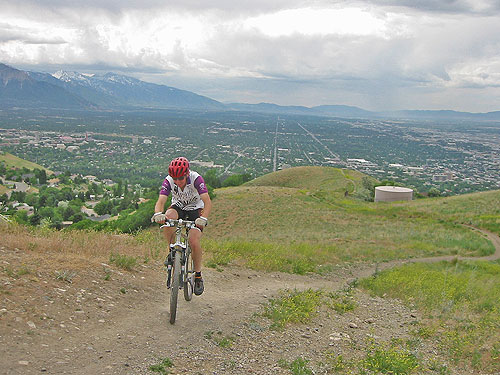 He is going slow enough while climbing, a camera can actually focus. Trying to take pictures of him as he rides downhill is like trying to photograph an artillery shell whizzing by. Evan rides downhill singletrack with lean angles like a short track speedskater (that is no exaggeration). Chasing him today at velocities approaching ludicrous speed, I ripped dozens of knobs off my rear tire sliding through turns, and I still couldn't catch him.
I have spent so much time in the gym recently, or bounding/hopping doing skate training but never really going anywhere. Even training at the Utah Olympic speedskating Oval, it sometimes feels like a frozen hamster wheel for lycra covered mammals with knives on their feet.
It takes that best kind of old friends, the most ferocious of old training partners, to pull one out of a rut.
Evan has two kids, a smattering of grey, his own business; we are both married, both with careers, but put us on bikes, and we are whoopin', hollerin', muddy nutcake crazy teenagers again!
Wiser, greyer, happier, more in touch with who we are, but still crazy after all these years!
Filed under: sweat, from the coffee shop