Posted on 12 Jun 01:10 pm
My brother, in commenting on my last post, wrote
I think you need to post the pic of you and Evan on that early (possibly 1st?) ride. You know the one. You in the sweats and Evan in his hat.
ok, for the sake of everyone else's laughter, I will.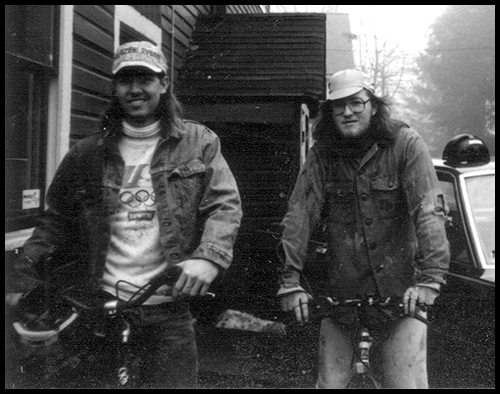 This was our 2nd or 3rd ride, the picture was taken in probably early march of 1990, in Amherst, Massachusets. Evan and I were both barely 19. check out my orange mane! (well, in black and white, you can't see the fact that I was/am very reddish in coloration).
Gosh, it looks like a picture of mountain bikers from the civil war. This was before suspension, clip in pedals, titanium-carbon whahoozits, or all this fancy-schmacy space age stuff.
We might still be crazy, but don't ride in sweats, jeans, or old army surplus anymore. However, an unbreakable titanium bike is a great thing, given that we destroyed pretty much every part on those two poor bikes in this picture, and luckily, not ourselves.
Some people drank in college, or engaged in other risky behaviors. Mountain biking & collegiate road racing was our doorway into finding out who we were.
Part of me wishes I had been speedskating then, but if that had meant never meeting Evan, I would not trade one mud-spattered minute of my singletrack youth.
Filed under: from home