Posted on 23 Jul 10:04 pm
5am, still dark outside, the air coming in through my open bedroom window is not cool, it feels like that ticking, seeping heat rising from underneath car hoods after the engines have run all day.
I start the coffee maker; step on the scale and through my pre-dawn blear see 195, yuck. It's a bad day to feel fat, I've gotta race today.
Racing? July? It's been 3 years since I have raced inlines, but The Draper Days 5k is put on by my friends Kim & Eric Kraan from Salt lake City's Skatenow shop. These two have worked hard to create a community of inliners in Salt Lake, this is the 3rd edition of their race, and I want to support this fun event.
Jessica is doing the concurrent 5k run, and the two of us arrive at the event location by 6am with a solid 45 minutes before the inline start. It takes a while to find out where to park, hobnob with folks we know, & locate registration. So by the time I am wriggling into my red & black Dimon Sports skinsuit & pinning my number on, there is barely 10 minutes to the start! Crap!!
Physiologically speaking, the first time your body deals with a significant lactic acid charge, it takes quite a bit longer to recover than normally. Therefore I am hoping for a gentle start, so I can work into the race.
The mood at the start is friendly, relaxed, communal, maybe 25 skaters, mostly on 5 wheels, I see many people I don't recognize, a half dozen with sharp looking skinsuits on. Arnim Ruleas and Eva Rodansky are here representing the ice world, as well as Jamie Cowen (regular commenter here) and others.
A skater comes up and says, "hey, you wanted to meet folks who read your blog, I am Steven, great to see you in person" Great meeting you Steve! We chat as things cohere, and the pack gathers. A few minutes to the start…. I am bouncing and stretching and feeling truly unprepared. I see a young man with an old school USAC/RS blue skinsuit on. Indoor inline speedskaters are usually scary fast, and Eric mentioned there are skaters from California, Oklahoma and Wyoming at the race today… hmmmmm…
Pre-race instructions begin, notes on the course, scary downhill corner, manhole covers, etc, etc, warnings about an orange sponge glued in the road (?!?!?!?,). The runners are milling about, they start their 5k 15 minutes later than us, and some have drifted forward to watch us go.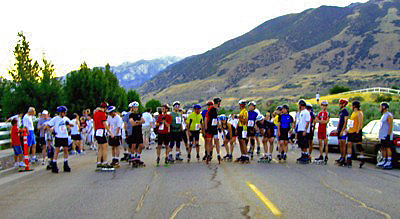 A matching duo of pearly white police Harleys, with matching pearly white cops astride them, thrumps into life, and rolls down the road to clear traffic.
Ready, set, GO!
Right away, experienced marathoner Uel Archuletta initiates maximum warp speed, like he is racing 500m, not 5k. In no time he is 50 meters ahead of everyone, Former Mexican National team inliner Arnim shouts to me from the other side of the pack "go get him or he is gone!" So I set off in pursuit, cranking my own effort level up to maximum.
Warmup? Schwarmup!! It's a downhill start, and quickly we are cooking along in the high 20's & full tucking through 30+ mph.
Uel flies through the scary down hill turn using every inch of asphalt, gaining ground on me, He overtakes the police bikes, skating like a man possessed. We know each other, and he wants to drop this sprinter right away.
I throw as many hard strokes as I can, worn wheels uncertain on the asphalt at this velocity, but after 1500m of all out effort I finally catch Uel. When I make contact, we are both audibly gasping. I glance back and see individual skaters scattered behind us, and no coherent chase pack. Thanks Arnim! I might not have made this move if not for your tip!!
We share the pace making equally through the flats, although both of us are tired from our all out start. This course is slightly downhill most of the way, and we are able to keep up a nice speed.
A kilometer later Eva Rodansky catches us, smoothly turning over powerful strokes on her new 100mm wheel skates. A 5k is about the limit of what I can do, Eva is training for the 82 mile Athens to Atlanta ultra-marathon! She takes the lead on a gentle uphill and begins to nudge Uhl and I further into our own personal pain caves.
We cross hard through a few corners, the final turn is clogged with cars, the motorcycle cops honk and wave. I fix my gaze on the flashing skates in front of me, and numbly thread my way through.
I realize again with the muddled insight of lactic acid intoxication, why I left inline racing for ice. I love all kinds of skating, but was born to excel in the power & precision centric nature of ice speedskating, not this cardiovascular roller-coaster.…
My eyes aren't focusing, I think I see the banner & finishing chute waaay up the road. Eva and Uel both have raced this course before, and start to kick up the pace. I'm in 3rd, "Is this the finish?" I gasp, Uel gives me a thumbs up and accelerates.
About 300m out I launch my finishing push. Normally I can do a double push sprint while swinging both arms, I try, but am too tired,.. After 200m of ugly thrashing that really has no technique worth a name attached to it, I dare a glance back and see a solid gap. That's a good thing, cause rigor mortis has fully set in. Leg-locked I cross the line first in 8:24 for the 5k/3.1 miles. An average speed of 22.2 mph/35.7 kph.
Eva, Uel and I high 5 afterwards, an excellent race. Skaters zip through the finish banner in ones and twos, and some younger skaters have thrilling sprints to the line. Everyone stays at the chute and cheers others on, you can see full results here.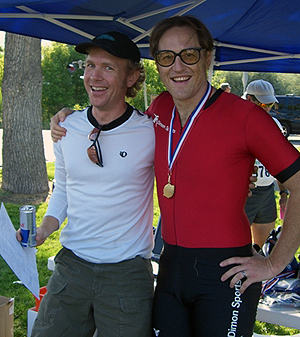 The great thing about this sport is that as intense as it can be on the course, afterwards we are all chatting & trading stories. In her 5k running race, Jessica cut 2 minutes off her own PB time, so it was a good day all around!.
Thanks Eric and Kim & the SkateNow shop for putting on a great event for the local skate tribe! In the post race raffle, everyone walked away with prizes! I promoted inline races in Colorado for 2 years, and I understand how much work goes into putting on events.
So I have one thing to say as I end this entry: "Never forget to thank, and hug, your race promoters!! They deserve it."
Filed under: RACE DAY