Posted on 25 Jul 04:15 pm
I am not talking about the SLC oval (knock on wood!) but rather the slowly crumbling facility up in Butte, Montana. In February of 2003 I had a REALLY good 500m race there at US national age-class championships, and set my first masters record.
Here is what Butte looked like, on that day in 2003. This is me with my friends Carla & Kathie in the warm sun.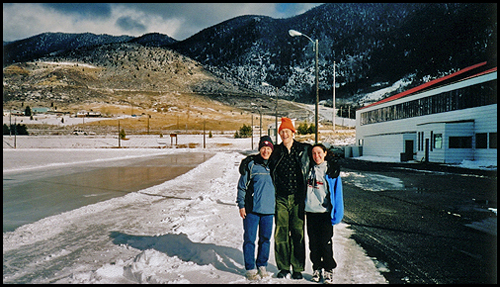 So I have some warm fuzzy memories of that track, as do many skaters. This track was often used by Dan Jansen, Eric Flaim, Bonnie Blair, and others in their early season preparation, and as recently as 8 years ago was the site of world cups & world championships, and countless national age class meets. (most of these links are to several of Jerry Search's exceptional photo galleries, here is a panorama he put together, a really good sense of the track)
When I was driving to Idaho, Jessica and I passed through Butte. To keep my motivational fires going, I went visit the track. Maps still list this facility as the "US high altitude sports center". I was horrified at what I found there.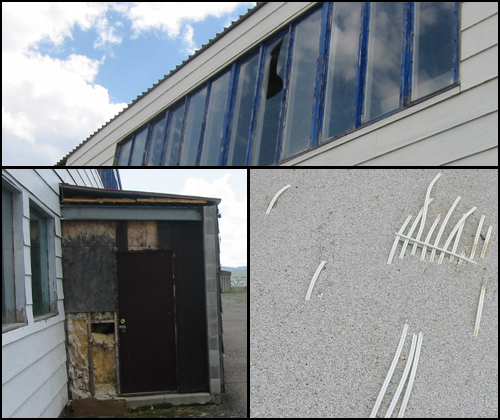 The track & buildings are one notch from ruin. Many cooling pipes are broken and poking up out of the ground like skeletal remains. Windows are shattered and birds fly in and out, roosting inside the central building, covering the insides with guano.
Looking in the dirty & broken windows, one can see rooms with pads, slideboards, EMT supplies, massage tables, and on one wall, the results from an America's cup in 2004. Maybe the last time this rink was used?? Is there still anyone skating in Butte?
The only sign of recent human use I could see was some writ-large pornographic graffiti drawn on the gravel of the track. Someone is still mowing the grass, so maybe there is still useage of the grounds, but I doubt it.
Paul Marchese joked once that he wanted to buy Butte's compressors, and set up an oval in his backyard. In all seriousness, as sad as the demise of this once beautiful track is, there is opportunity within destruction:
Why not dedicate a grant writer to find a corporate sponsor or federal grant, load all the salvageable equipment into a U-Haul, and transfer the ESSENTIAL GUTS of this oval to a MAJOR population center, or even better, an athletic field on the grounds of a huge university? New York City? Boston? Seattle? Somewhere with a major winter sports vibe and a critical mass of hockey clubs as feeders. One could then re-create the track within a tennis-bubble style structure.
Admit implicitly in its creation that a speedskating facility can never pay for itself, so use the infield for something else, like indoor soccer fields, batting cages, a bingo hall, volleyball courts, an expo-area, slot machines, maybe a lab that needs a "cold" environment, ANYTHING that will pay for it's existence, and maybe give athletes the possibility of off-season jobs.
Is this a pie-in-the-sky idea? Maybe. Of course, the devil is always in the details, and re-creating a long track can involve some really expensive details, but it's worth at least considering, rather than simply letting birds crap on possibility, and letting the elements slowly destroy potential.
Step back, and from a distance, the track still hums with memories, mine and others, but I am not sure if it will continue to create new ones.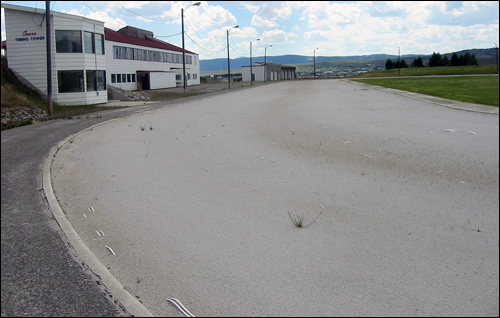 p.s. The Butte oval is not completely dead!! I emailed one of the Montana speedskating club contacts, and this is what Tina wrote back.
Andrew,
The oval is not dead. As you saw, the tubing is shot, so we quit using it in December 2004. Last winter we went on 100% natural ice. We had ice from the beginning of January until just about March. It was the best ice we've had in years. WE plan on sticking with natural ice unless we get a $3 million wind fall. Since we are on natural ice and can't guarantee it, we no longer host sanctioned meets. The building has needed work for years. It never really got finished. We are trying to chip away at small improvements this summer.

The club got down to about nothing, but we starting working hard last winter to rebuild interest. We do seem to have a core handful of children and adults now.

If you have a few million dollars laying around, feel free to send some.
Filed under: from the coffee shop