Posted on 09 Nov 01:52 pm
So wave your hands in the air
Bust through the moves
Run your fingers through your hair
This is it for a winner
Dance to this and you're gonna get thinner!!!

-M.C. Hammer: Can't Touch this.
Hovering in front of brilliant trees and blue sky on the corner next to my house, this graffiti cracks me up every time I pass.
A college student when "Can't touch this" was a hit in 1990, I used to dance my brains out (badly) to this song.
Wikipedia contains many cultural references to "hammertime". But they completely miss the bicyle racing useage; to most two-wheeled athletes, going really hard is "hammering", and "hammertime" means the race is ON.
I can't think of an equivalent speedskating expression. Years ago I heard Kip Carpenter once call going really fast "roasting your pair" (legs? or your opponent on the track?), but that does not have the same ring.
Don't laugh at M.C. Hammer, he currently has a blog where he writes haiku like entries about his faith, and the things he sees all around him.
Looking at these lyrics, I never considered the weight-loss benefits surrounding "hammertime", but think of how many calories have been lost during this song! Maybe America's looming obesity nightmare can be solved through strong doses of "Hammertime" "Groove is in the Heart" and "Everybody Dance Now". Maybe it's our national lack of these qualities that contributes to the problem.
I am writing to you all on an off day from training, a truly needed off day too… The last two weeks have been craptastically hard. But walking to the coffee shop with my hands in my pockets against the chilly fall air, I can tell my hip flexors have much more size and definition than any other year of racing I have ever done.
This time of the year, it's all about refining race fitness & taking speedskating specific musculature to new levels. I hope all this hard work, this circular roasting hammertime, will take me to the next step.
Meanwhile in Missouri, the artisan who built Apollo Anton Ohno's skates continues working on my new boots. It looks like the molds of my feet have been sprayed with some magical, pink substance. Hmmm.. maybe liquid Hammertime???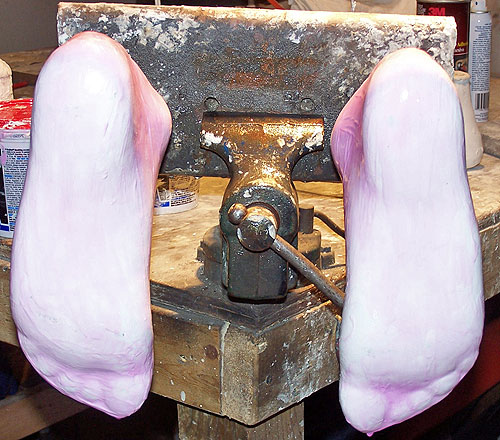 Filed under: from the coffee shop