Posted on 12 Nov 04:18 pm
To the right of this entry are images I've taken of European Masters athletes, what photos can't convey are the warm & friendly conversations I have had with many of the good folks pictured here.
This year, World Masters Speedskating Championships will be in Calgary, Canada from February 22nd to the 25th.
Registration opened October 10th. The Canadians have already filled their quota of 91 skaters, the Dutch are sending 70, 50 Norwegians will participate, as well as a "bracer" of Germans, a "blizzard" of Finns, a "precision" of Swiss, and an "enthusiasm" of Italians.
The USA has been offered 51 starting spots, and so far, according to Ross Hanham's excellent Masters speedskating newsblog, we have only filled 11!! December 10th is the absolute deadline!
My fellow Americans! Let's show up and rock!! I can think of at least a couple dozen American skaters, who represent the best of this sport (in both soul and speed) who really ought to be on that starting line.
From a technique & fitness perspective, I think American Masters stack up very well with the rest of the world. You can download the entry blank and find more information on the Calgary Oval website.
Masters Worlds are a truly unique opportunity to line up with skaters from other countries in a "world-cup" style atmosphere, and share in the wonderful camaraderie that results.
Many say that Olympic sports are unique because athletes "do it for the love of the sport". I would argue that this is more true on the masters level than any other. With the multitude of obstacles older athletes face, to step to the start line when you are over 30, usually means you simply just LOVE to skate.
In this spirit, and essential to these events are the large group banquets that happen. English seems to be the default language that the Europeans use to communicate with each other, so even for the average monolingual American, it's easy to chat with folks.
I have just been offered the position of US rep to the IMSSC, the organization that runs these events, as Mary O'Donnell is stepping down, and I have truly enjoyed the half dozen Masters International races I have been to. Usually I go to the sprint classic in Inzell or the Masters International in Milwaulkee, but I just can't miss this Calgary race, even though it's an allaround meet, and my 5k will be good for a laugh for anyone watching. 12.5 laps!! In a row!! ouch!!
When you really come down to it, racing is one of the most effective memory making machines there is, and some of my best memories are from Masters International Events.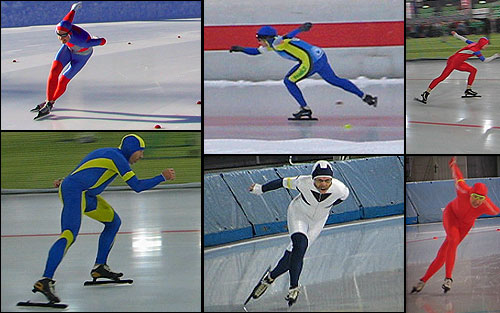 Filed under: from the coffee shop