Posted on 14 Nov 12:55 pm
Last week Salt Lake had many days of absolutely beautiful fall weather. I took this picture of a jet contrail looking up through the brilliant fall yellow of a tree on my lawn,
Just a wonderful day, warm enough for shorts and soaking up the warm sun & blue sky.
12 hours later it was snowing, sleeting, and generally miserable. From flip-flops to parkas in one day, a true climatologic whiplash.
There are many odd things about Utah, one of them is that when the seasons turn, it's not a gradual temperature shift, it's like some celestial switch is thrown, the jet stream blusters down from Canada, and the weather changes violently.
Speaking of yellow, in Bruce's workshop my feet have changed color again! The inner lining is in place, the yellow is aerospace/military grade Kevlar on top of that, and the eventual tongues of the boots laid into place.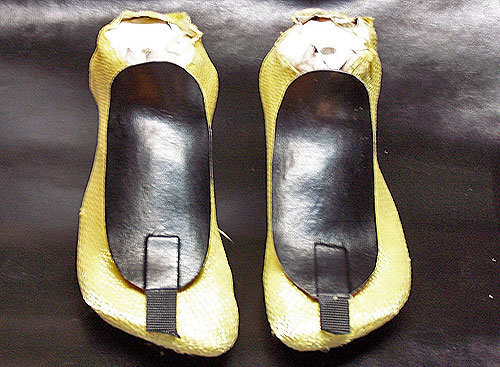 I once stayed up all night, and watched a master welder turn a pile of titanium tubes into a bicycle I still ride that bike all the time.
Beginnings have always fascinated me, especially when the beginning looks so different than the final result. Many of us know skates, and can speak at length about the relative merits of this brand vs. that brand; but how many can picture the embryology of skates? Cool stuff, thanks Bruce….
Filed under: from home