Posted on 04 Jan 09:52 am
The following entry has NOTHING to do with speedskating.
Legions of trees surround us. So many that we mostly see a "forest" instead of individuals; But this individual tree, on route 17 at the Vermont/New York border caught my eye.
It has a wonderful shape, expressive enough that farmer who cleared this field & the road crew who paved this road left it in place as they tore down all the others. Repeatedly, choice has allowed this tree to survive & flourish.
After taking this first picture, every time I drove by it on my way to Lake Placid, I snapped more. Sometimes facing the Adirondacks, sometimes the green mountains of Vermont.
I never stopped, just snapped as I drove… Here are a few of these images: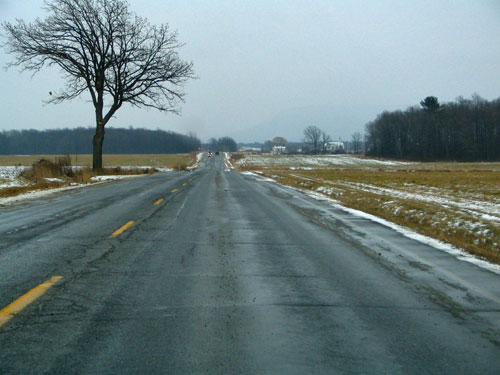 We have things in common with this tree;
The weather changes, the light changes, the road past sometimes busy, sometimes deserted.
Seasons spiral by, and we hope for a sweet light when the next fellow with a chainsaw glances in our direction.
Filed under: on the road