Posted on 11 Jan 10:19 am
I am really glad people liked the video my brother and I put together. I somehow can't stop humming "Singing in the Rain", even though I am back in Salt Lake and it's pouring snow.
It's worth the few minutes it takes on YouTube to watch the original Gene Kelly version. Or if you really must have all your action on ice, check out Kurt Browning's figure skating remake of it!
It's awesome to see both of these artist/athletes at the top of their game… Here is a YouTube hint my brother showed me, when you are starting a video, click on the box in the lowest right hand corner of the box to get the full screen view!
I am not exaggerating when I say how wet, foggy & sloppy it was for the first day of the Jack Shea, the video was almost entirely shot during the 15 minutes the sun peeked out. I just was emailed probably the best picture I have ever seen of me skating and it shows the conditions quite well. The wake rushing off my left foot looks like a torpedo near miss.
Thanks Mike and Lori for this shot! They are photographers who run Shadowcatcher LTD, and have images of many of the athletes racing. They are available for hire for speedskating meet photography on the east coast. They are good folks and I wish them luck.
Mike raced speedskates on the lake Placid track in 1966-67 when it was just a high school running track, and has recently returned to the sport. Here is Mike in the mid-60's, and then this past weekend.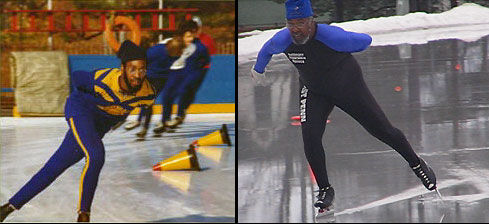 Filed under: from the coffee shop