Posted on 18 Jan 01:58 pm
I might be slightly misquoting him, but I remember American sage Garrison Keillor once saying something roughly like this:


If you spend a week in one place, and try to write about it, you have a 50% chance of getting it right.
If you spend several weeks or even a few months, your chances rise to about 75%.
However if you spend a year, or several years, the chances get lower and lower.
You become overwhelmed by complexity as you become a part of that place, and not an observer."
In that light, as I sit here in Salt Lake, and miss my friends & family back east, here are 10 thing about Lake Placid.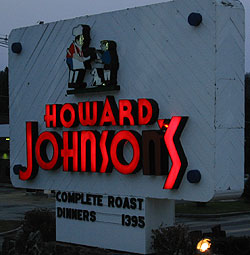 10. The last Hojo:
There are only 3 Howard Johnson restaurants left in the whole United States.
Whenever an icon is nearing extinction, it is cause for contemplation. One of the last HoJo's is in Lake Placid, and it apparently markets itself to triathletes, as a water bottle my brother bought me there says "swim & bike & run to Hojo's!
9. Night skating at the oval:
Colors, hard ice, & clear air on the Bunny Sheffield oval, or "the house that Heiden built". Night skating rocks! Actually it was warm & wet during this picture. It still rocks.
8. The 1980 Olympic rink:
The rink itself is quite small, seating only a few thousand people at most. I like jogging around it to warm up in the morning. Ted Fitzpatrick recently lent me a DVD of the "miracle on ice" game against the Russians. Incredible.
The USSR outshot the USA something like 36 to 12, but the US goalie Jim Craig was amazing and the Russian goalies played like vodka was part of their warm-up. I get emotional whenever I step into that building. This image was shot at 7:15am, just as the lights were just coming on.
7. Ski Jumps:
File this particular sport under the OMIGOSH! DO PEOPLE ACTUALLY DO THAT!!! I simply cannot grasp what it would be like to ski off one of these things. They are scary huge, like a hotel perched on the edge of a cliff.
I took some photos, but none of them conveyed their astonishing size. Next time you are twenty stories up in a building, strap on some fat skis and jump out the window, roughly the same. Here is a better picture.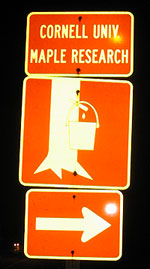 6. Maple Syrup & Science:
The tendrils of intellectual power & mind-numbing research from Cornell University extend to the remote Adirondacks & to maple syrup!!
My brother noticed this as we were driving, swerved off the road and took this picture. What do they do at this lab?? Inquiring minds want to know. But what a job! Maybe Homer Simpson's dream job is within this lab.
5. ORDA cam:
What is happening in lake placid right now? Check out the orda cam! The camera snaps on the hour, every hour, when the 4pm shot is taken, all the speedskaters are still in the warming hut tying their laces, so unfortunately I've never seen a shot of pacelines whizzing around.
4. Think Snow:
The sign at the entrace to the main Olympic Complex.
The east coast ski industry, both downhill and cross country, has had a brutal early season. I wish I could loan them some of the Utah temperatures & snow.
3. The Zamboni:
This is iceman Dan Wood and the oval's zamboni. This is the original machine they used for the 1980 games. I think it looks like a pimped out UPS truck. Conditions are brutal enough in placid that they have the driver enclosed.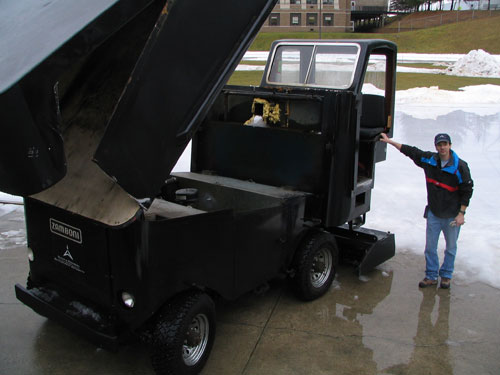 Dan was a short tracker on the 1976 national team, did the ice for the 2002 US short track Olympic trials, and did the ice for a short track race where the women's 500m world record was broken.
2. Lake Placid IronMan Triathlon
By pure chance, I have been in Lake Placid twice during the summer when this event has been going on. It's an absolutely incredible thing to watch an Ironman distance triathlon in person. The crowds are crazy loud, the athletes incredible, and the human triumph of completing an Ironman astonishing. I have never seen so many people celebrating at a finish line.
I have raced several sprint triathlons, and have been tempted to try the longer ones. Then I remember that I have almost no slow-twtich fibres in my body! But I can still cheer loudly, and admire those who do.
1. John Dimon & Dimon Sports
When you do a google satellite image search of lake placid, you can see the oval very clearly, but the little green arrow that denotes to the center of Lake Placid, points to the doorstep of Dimon Sports!!!
When Google says you are the center of something, that counts somehow! see for yourself.
The vast majority of speedskaters in North America have spoken to John Dimon on the phone at some time. His life is skating, and it's not too strong to say that John has been one of the central figures in a small group committed to saving long track from extinction on the east coast. Here he is, surrounded by friends of the skate tribe, handing out awards at a recent race.

John does sponsor me, so take whatever I have to say with a grain of salt. But his shop is the only dedicated walk-in speedskating shop in North America, and it exists because of his blood/sweat/tears (and gallons of diet coke!!)
Thanks John!!!
Filed under: 10 things about: