Posted on 29 Jan 03:45 pm
My morning coffee usually creates encouraging vibes, however check out what the napkin I picked up with my coffee on the way to Sunday's races said: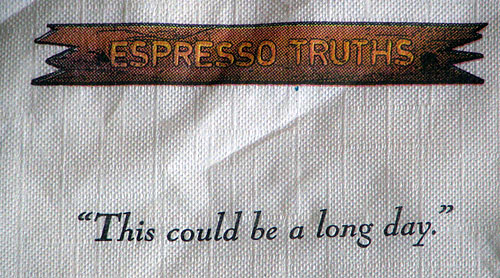 The napkin was correct, it was brutally cold & windy too, so cold that blades felt "sticky" on the ice. You can see results from this meet at http://www.midwayspeedskating.org (here is the direct link to the .pdf file of the results)
Nationals age-class championships are a wild ride. Packstyle has a completely different & gut-wrenching immediacy compared to the stopwatch driven purity of a metric meet.
Tactics, close racing, and split second decisions combine to make racing intense, fun, and like a short track meet but with less chance of serious injury (just kidding).
Many of the categories, including the one I raced in, were undecided until the final meters of the final race (and the masters 40-49 was a dead-heat photo finish, no one knew who was national champ until they called out Matt Trimble's name at the medal ceremony an hour after the race).
I've done some really intense competitions over the past two months, and I came into this meet about 50% sick, ho-hum emotionally, and with Mr. Stopwatch telling me I am not skating up to par. However I knew most of the "usual suspects" who were registered in the 30-39 age group, I went to the start line of my first race thinking I should win the meet handily.
I was in for a big serving of Hubris Pie, as inliner Mike Anderson beat me convincingly in the 1500m. I had a real battle on my hands after that. It became a VERY intense meet. Luckily Mike "played chess" in the final deciding 3k, instead of using his tremendous fitness & simply trying to rip my legs off by going hard from the gun (usually the best tactics for dealing with a strong sprinter).
I am very lucky to have won my 2nd US masters 30-39 National Championship.
Here are the pictures of the age group Champions, ages 6 to 70+ (I'm the one in the ugly furry hat, with my mouth open because I am joking about the wall of digital cameras facing us.)
I am not a superstitious person, but I sometimes take fortune cookies seriously just because it's fun. Pacing the hallways and getting myself psyched up for that crucial 3k, I found this half torn, crumpled fortune on the ground. It was not a statement, it was a question:
It made me stop and think of all the things that have "richness" in my life; my wife, family, friends, health, luck, & whatever irrational part of my soul drives me to do something so crazy and rewarding as repeatedly skating around in a frozen circle.
I thought of the "rich" experience that a meet like this is, no matter the outcome.
The good folks that I chatted with, and even the strength of my competition, made me focus to be the best I am, win or lose. Sure, winning is great, but I had amazing experiences the first 2 times I raced masters nationals & lost to Brian Boudreau. Losing made me a better skater in the end too, as I came back more determined & prepared each time.
Just before the 3k, in anticipation of the pain we both would be facing as we raced, Steve Miller joked with me by saying "just go to your special place". My immediate response was "but I am already there, with all of my special friends".
Skaters… Skating… Ha! What a wonderful, challenging, rewarding, rich, heartbreaking, breathtaking sport…
Filed under: RACE DAY, from the coffee shop