Posted on 08 Feb 07:39 pm
The bicycle and I are old friends. After spending a decade of my life competing in 450+ bicycle races, maybe it's more appropriate to describe this particular old friend as an abusive co-dependent sweat & endorphin-drinking buddy.
Here is me and my old friend in 1991, racing through the rainy streets of Boston right next to the Charles river. But I shouldn't complain too much about this old friend, or the crazy things we used to do, I still have both collarbones intact, and more fond memories than crash stories.
I ride my Powercranks indoors during wintertime, but owing to how brutally cold this winter has been and my focusing on the ice speedskating season, it's been months since I rode outdoors.
However, today, 55 degrees!! Omigosh!!!
I could almost hear my single speed road bike howling with uncaged titanium joy as I wheeled it from the garage.
Within a few minutes I was bopping through the hills of the Avenues District of Salt Lake. However I was surprised to feel the bike was an imposter between me and speed; the handlebars were rudely intruding into my field of vision, and I felt like a dumb motor turning the gear(s) on a machine.
I never feel that when skating. When skating I am flying, free, willing myself into velocity and skimming across the land like a cruise missile (well, a slow missile, Mr stopwatch tells me I am still skating like crap).
A wonderfully written and fascinating blog, Fat Cyclist, had this quote about riding recently.
I love the climb because the descent payoff is incredible. The curves come at you nonstop as you're descending as fast as you dare to go, making bets with yourself as to what your tires' limits of adhesion are.

If you get into a descending groove, you stop feeling like your bike is something you're riding.

Instead, it's something you are.
It's been so long that I've been away from bike racing, that this feeling is a hazy memory. Or maybe there is only enough room in a soul to feel that about one thing at a time, as I have heard similar ecstatic descriptions of driving a sports car, horse jumping, etc…
There will be time to find the bike again this summer. Since I don't plan to be leaping about in the lactic acid blast furnace of dryland training, I am looking forward to knobbily skipping my way across the slickrock in Moab, or leaning through twisting canyons near my house, feeling those wild changes of air temperature as a climb-sweat soaked body plummets downward through the swirling mix of rising desert heat & sinking mountain air.
Sigh…. Like so many, I am an addict of that moment, that oneness with velocity. I am never sure if it's the moment itself that is peaceful, or that one finds peace after feeling those moments.
Sometimes a man can be dated as surely by his athletic gear as he can by his favorite band during high school. Here is a photo of my single-speed's drivetrain.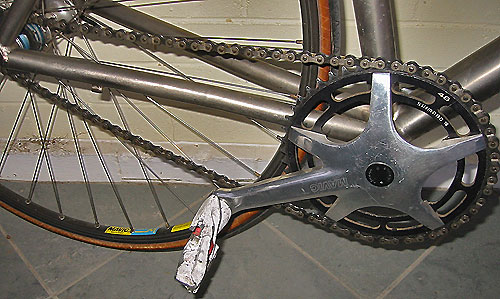 If there are any other old-school bike snobs like myself reading this, I give them one guess as to who was president when I was most active as a racer.
Filed under: from home