Posted on 13 Feb 02:13 pm
Trolley Square, this afternoon.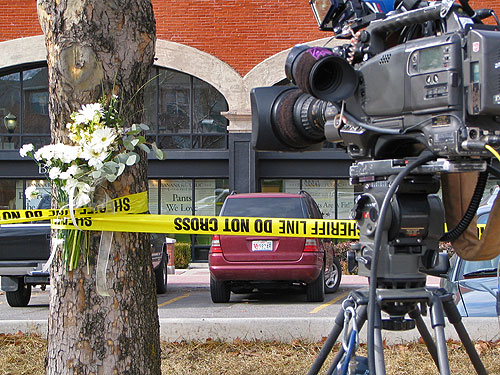 Last night an 18 year old shot 5 people dead here. We don't even know the name of the killer yet, but the reasons that teenage white men put on trench coats & go nuts in a blaze of dysfunctional family-provided firepower often pan out the same.
Dozens of news trucks are surrounding this small mall of restaurants, clothing shops & a movie theatre. Satellite dishes and huge 50 foot antenna masts loom over news anchors streaming constant updates & commentary skyward about this nationwide "tragedy of the day" as traffic blithely hisses past.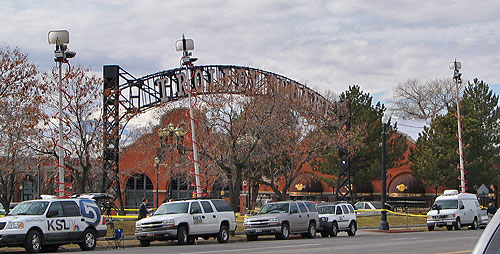 I can see the lit entrance of Trolley Square from my bedroom window, and drive by it several times a day. The gym Jessica & I lift weights in is "Trolley Corners" right across the road.
This how the New York Times described what happened:
Witnesses told of the sounds of gunfire, screaming and crying and of a scene of havoc that lasted almost an hour during dinnertime
and here is the Salt Lake Tribune's piece:
The bodies were found "in various parts of the mall." Witnesses told The Tribune that three bodies were in Cabin Fever card store, one in Pottery Barn Kids and another outside of Bath and Body Works.
Horrors, absolute horrors.
When random violent death comes to "Pottery Barn Kids", does it change how we look at this world?
I have often wished in a small way that this was a wider kind of blog, so I could write about more things that simply skating in a circle. I went to practice this morning, skated well, and forgot all about murder on my doorstep. It did not even really register emotionally when a coach told me his wife was headed to Trolley Square when this happened, and at the last minute she went to a different mall.
Then I drove by Trolley Square on my way home.
I wrote about 10 paragraphs that I just deleted, firstly about how our culture is changing because of the Iraq war, like this shocking photo in the NY times of this tragedy as it happened.
I wrote about the connection between this seemingly random horror and the 100 found dead every day in Baghdad. Many of them tortured with blowtorches & power drills before being shot.
Is there a connection? Absolutely! The connection is in what a human soul goes through, and how is it humiliated, shaped, & twisted, before being able to commit horrors like this.
And are we, as a wider society, partially to blame? Both in the emptiness & loneliness of our own society, that so often is a catalyst for the latent psychopathic element that has always been and will always be with us.
And are we to blame, as Americans, for creating a place where extremely well armed psychopaths praise god on one hand, and then create 20 Trolley Squares worth of death every single day with the other.
I almost just deleted these last 5 paragraphs, but this time, I will leave them.
Filed under: from home