Posted on 15 Feb 03:25 pm
I read cyclingnews.com every day, keeping up on my old passion of bike racing. It's been quite painful to be a fan of elite racing recently, but the sport itself is still wonderful.
Recently they had this article about Cyclocross, one of my favorite kinds of cycling, and the article interviewed someone I used to drive to races with, good fella extraordinaire Adam Myerson. There is much food for thought in this, if these lessons are extrapolated to speedskating.
What is cyclo-cross?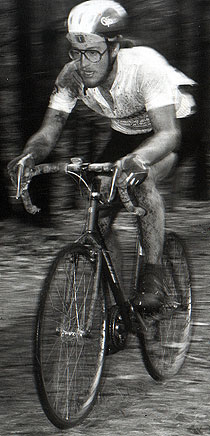 Imagine steeplechase, but on road bikes! conditions usually combine mud, sand, logs, slop, hills & barriers requiring dismounting and running with the bike on your shoulder, some mandatory fast asphalt for the start/finish, and generally appalling "more fun" muckitude.
To the right is me, at 19, happily covered in mud while racing at Wompatuck state park, just south of Boston.
Basically cyclocross is riding road bikes off-road with knobby tires. Although mountain bikes can compete, they are often at a disadvantage to a true cross bike due to the nature of the courses.
Here is an image gallery from the elite men at the recent US nationals. And here are the women, A typical slop-fest fun 'cross race!
In Europe, road racers have been doing 'cross since the 1950's to keep in shape over the winter, and it is HUGELY popular due to the short spectator friendly courses & "festival mentality" surrounding Euro-racing. Lance Armstrong has even raced 'cross, here is a photo gallery, and this particular one is priceless and channels the spirit of the sport.
Racing cyclocross helped me train the physical aspects of cycling I am awful at, and made me very confidant while riding a road bike in terrible conditions. I very rarely ever cracked the top half of the results in any cross race, but it did not matter. The mud-spattered, endorphin-addled idiot grin was why I raced.
In the early 90's, cyclocross was a cult sport in the USA, practiced by just a tiny number of people. I was a happy part of the New England cult. Races were small, often only 50-75 total athletes in a few categories. Nationals would attract a few hundred.
I bet in 1990, nationwide, cyclocross was very similar to speedskating in total numbers of participants, maybe even smaller.
From the late 90's through to when I did my last cyclocross race in the fall of 2001, something DEFINITELY CHANGED.
Attendance at races skyrocketed, a national series cropped up. Multiple categories became the norm. There was suddenly prize money involved, and world class road & mountain bikers started appearing. Nationals used to happen all on one day. Now it takes 3.
I found my true calling in ice speedskating in 2002, and lost touch with 'cross, as the racing seasons both start in October. The only speedskater I know who did both was multiple-US ice marathon Champion Rob Kramer. He raced a lot of 'cross until the ice would come in at Lake Placid, then it was all skates.
If you don't want to read this cool article I linked above, no problem, but here are the lessons I think can be drawn from it.
A strong, visible national series, where the top people all gather, is essential.
Cyclocross was never supported by USA cycling, it really was created by race promoters & passionate folks like my buddy Adam. They saw a problem and solved it regionally, with passion & elbow grease.
It's ok to have regional differences/flavor in how racing is run, as long as differences are celebrated.
When speedskaters whine about lack of support at the elite levels, we are riding the IOC gravy train compared to the top-crossers (or inliners, for that matter).
Ice Speedskaters also can train to compete at the world-class level without a mandatory move to Belgium or Switzerland!
Speedskating equipment is CHEAP comparatively. Most top crossers need 2-3 bikes at each race. Top bikes are many thousands of dollars each, and cyclocross destroys equipment like nothing else. The bike I am riding in the above photo, I snapped the down tube at a race my parents attended. My father never fails to give me good nature crap about how proud I was of this.
Cyclocross has certainly benefited from the explosion of Mountain biking, in the same way ice speedskating should joyously cross-pollinate with inline.
Speedskating has visible national heroes; everyone agrees there has been a massive failure to turn their celebrity into a grassroots program. Is there another model? I think cyclocross shows one.
What are the lessons? cyclocross grassroots promoters show them in these excellent examples, I found 20+ local series websites in one googling, none of these series existed when I did my first cross race in 1988.

The Pacific Northwest's cross crusade.
The Verge New England verge series.
Tennessee's Mud, sweat & gears
The Southern California cross folks.
Seattle cyclocross
Surf-City Cyclocross
North Carolina Cyclocross
Utah Cyclocross

and the national series, the US Grand Prix of Cyclocross.

Imagine if the America's cup races were organized with outside sponsors, like any one of these… Taken as a whole, these websites have something to teach speedskaters as it shows passionate individuals creating regional race circuits, attracting money & industry sponsors, creating grassroots community, etc.
A bit of passion, a bit of cult, is a good thing, but popularity does change the sport.
TV coverage is nice, but there has never been cyclocross on American national TV. Most people in the population at large know about speedskating & can name a few speedskaters. Mentioning 'cross to a non-cyclist draws a blank stare.
Its easy to say "oh, these are such different sports for XYZ reasons". Yes, they are, but 17 years ago, I believe there were far more similarities than differences.
Taking the long view, 17 years from now, where will speedskating be? We can thrash around in the dark of our own morbid frustrations, or we can look to other examples of "small-sport" success, and model our own efforts upon the best examples of them.
Filed under: from home