Posted on 15 Feb 04:00 pm
You can tell when a major event is coming to the Utah Olympic Oval. They shut all the windows.
Well, not really, what they do is hang these funky black curtains over the windows. You can see them covering about half of the upper row in this photo, eventually they will block out every source of outside light.
The skater here is Patrick Meek, ripping out a 1200m. Click on the image for a larger picture.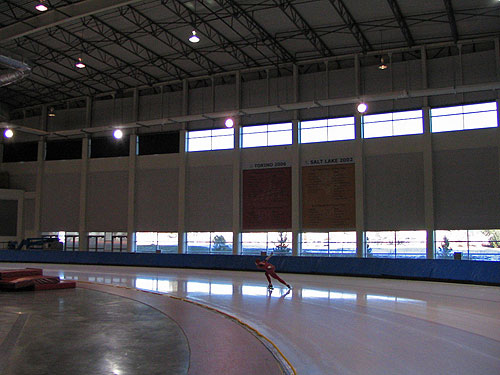 They do this so the usually brilliant mountain west sunshine streaming in does not mess with TV cameras. Also they turn on multiple rows of inside lighting, in this photo you can see the extra banks of lights straining into life. It suddenly almost feels like a new rink!
On march 8th to the 11th, the World Single Distance Championships will be in town, even now, a month out, you can feel it coming.
Filed under: from home