Posted on 17 Feb 04:36 pm
Pictured here: the results of Keith Carney's awesome skating power!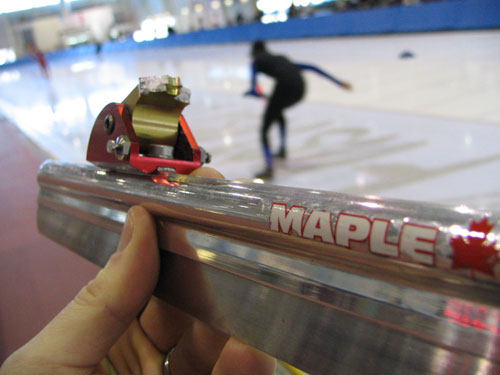 Well, almost. Keith smacked into the wall at top speed during his 500m race today & snapped off his clap arm. Luckily he was not hurt, as the sound he made hitting the wall was quite spectacular.
It speaks to the general nature of skaters, and Keith in particular, that even after a brain jarring impact, and destruction of expensive equipment, he is still his same good-natured self.
The funny thing was that the blade did not actually fall off until he was warming up for his 1500m.
There were many races at the Utah Olympic oval today. To the right is 17 year old Matt Shanahan, who skated a HUGE personal best during his 500m. His 36.74 was almost a second faster than the US Junior record for men his age. This image is 150m into his 1000m; there is some serious dynamic power here.
People ask me why I am not going to be training towards the 2010 games in Vancouver. There are some immensely talented young sprinters like Matt who have really come into their own this year. They are part of the reason, not the real reason, but part of it.
It's really fun to watch them rip scary fast races though. Matt was HAPPY!
There were also several 10k's, Marian Furst, Paul Nahrwold, Michael Drews, Eric Kraan, and my brother-by-another-mother Kirk Fogdall all skated them.

You can see the results from today's racing here.
Kirk slaughtered his former 10k personal best by 26 seconds and skated a 15:09!!! (that's skating 24.6mph for 6.2 miles).
He has been doing insanely hard slideboard workouts all year, and extremely difficult on ice work (including what he calls "10k Friday", where he just skates several 10k's by himself at race pace…. yeee-ouch-arama!).
Today all that hard work paid off! I am so proud of him.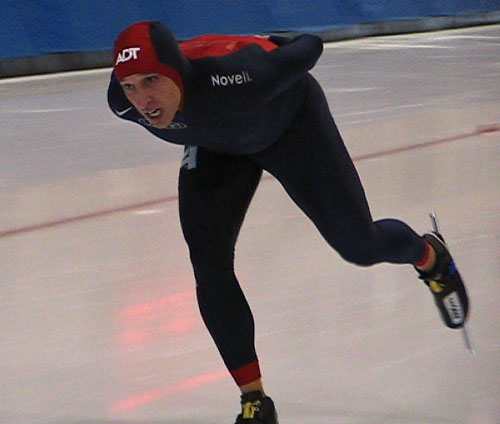 As for yours truly, after a truly average 500m, I skated my first PB of the year in the 3,000m. I race that distance so rarely it almost does not count. I placed last out of the guys who skated the 3k, but so what! a PB is always a cause to be happy, and this particular PB is from 4 years ago, back when I was doing lots of inline marathons, so I'm happy.
Bonus Picture!
Wasatch club skater Michael Drews, skating his first 10k, congratulations! In the words of national team member Ron Macky, you're a man now.

Filed under: RACE DAY