Posted on 21 Feb 09:31 am
There is a certain amount of comfort when you can actually SEE your luggage going into the plane.
My trusty skate traveling toolbox is making its way up the conveyor belt in this photo.. You can see a hand reaching out from the hold & pulling the cardboard box in front of it inside. If it hadn't, my bag would have taken a 10 foot tumble onto the pavement. Several bags suffered this fate as they piled up on the conveyor belt (to the consternation of watching passengers).
It's great to be back in Calgary, this is my 4th time racing here, and I like the feeling of big Alberta sky.
There are roughly 300+ masters speedskaters here from all over the world… The ice was CROWDED. Skating around among Norwegians, dutch, germans, Italians, Russians, Latvians, etc, it made my whole summer of dryland training seem suddenly very worthwhile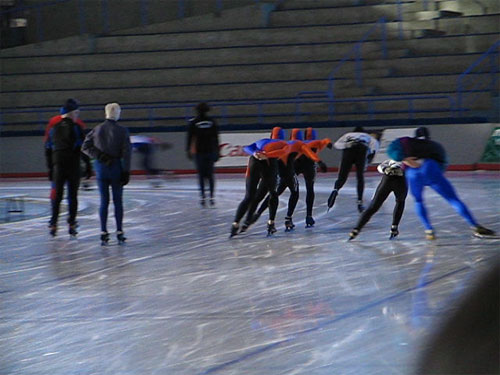 I will try to take more pictures soon….
There are so many good folks I ran into today, Ross Hanham, Bob Lawrence, Mora D'Andrea, Pat Kelly, Bruce Connor, Rangvald Ness, Arne Stenhaug & Arne Kjell Foldvik (Arne gave me some good natured kidding about why couldn't I have published a better foto of him on this blog, and that he does not skate that high!! that is him on the absolute lower left in the blue.. in the last laps of a 70+ 5k record)
Also here is the whole Italian Masters team, good dudes.. I've been working on my Italian, and am starting to understand bits of conversations.
Funny, and slightly off color story:
Several of the Norwegian master skaters are suffering from lost luggage. One of them went out and purchased a new set of top-level Van Horne Boots & maple steel blades. Just incredible equipment, very pretty in the afternoon light slanting into the Calgary Oval. I asked him how the new skates felt, he said
Well, you know how it is to be with a beautiful woman for the first time, when you both know what to do, but just aren't used to doing it together. That is how I feel.
I just about fell over laughing, I have never heard a more eloquent connection between skates & sex.
More soon, gotta run to the rink!!
Filed under: on the road