Posted on 21 Feb 08:05 pm
Here are 18 of the 24 Athletes attending this year's Masters World Championships from the USA, click on the image for a bigger picture.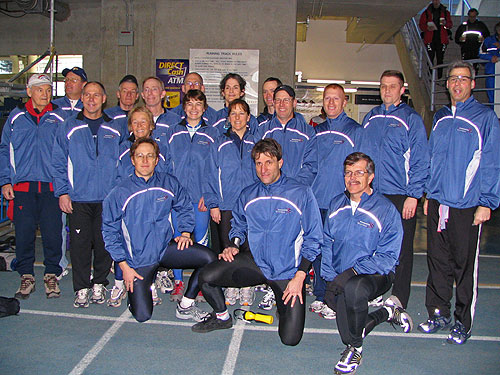 Kneeling in the front, L to R is
Yours truly, Brian Boudreau, and Steve Miller
Standing in the back row, L to R, is
Joe Mcdonald, Jim Hundt, Steve Desotell, Tim Doherty, Joanna Walters, John Nillen, Karri Cox, Bruce Anderson (behind Karri) Mary O'Donnell, Kathie Zapotocki, Jim Cornell, Bruce Connor, Danny Frederick, Myron Yencha, Greg Oly
This was an impromteau picture, so Stephen Gunther, Tony Fiorillo, Joanna Walters, Harry Dingle, & Mary Lou DiNicola were not there.
Here is a detail of the design on the jacket. Thanks go out to US Speedskating and Tom McLean in particular, for buying these for us. All the European teams have warmups, and many have suits as well, and this year Canada has nice jackets & suits too. So this feels good.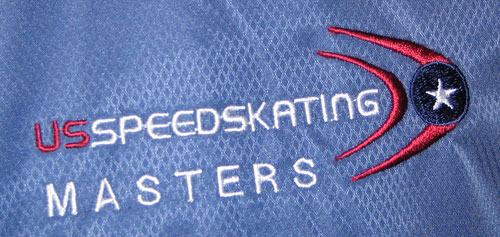 Racing starts tomorrow at 1pm! Whoopee! And given the fact that there are 353 athletes from all over the world attending, they expect racing to run until 11pm.
It's going to be a looooong day at the rink.
Filed under: on the road