Posted on 23 Feb 11:05 am
Hello, my name is Olaf, what are your Personal Best times?

-a greeting by one of the Norwegians, to several of the Americans, it made us laugh, actually we discovered some of the Euro's had researched their American competitors online, and knew all of our times!!
Memories of yesterday's amazing racing swirl through my mind's eye like the view through a flamethrower powered kaleidoscope. Today will be no different, so let me get as much down as I can before today's flamethrower memory machine sparks into life.
Bruce Connor came to this meet a man on a mission, and broke the 500m masters world record for the 50-55 year old age group. How good does that feel? This good!
(are these world records? fairly deep in this old post from last year, here is my take on this, all the euro's informally call these world records).
Jim Cornell is skating in the deep and strong 32 member field of the 40-45 age group. His Parents came to Calgary to cheer him on, as they have not seen him race in 10 years. It was a good day to catch up. He was 9th in the 500 and 7th in the 3k. As I write these words, a Dutch reporter from Schaatssport is interviewing him because of his ice marathoning success (a Dutch team needs to hire him!!!)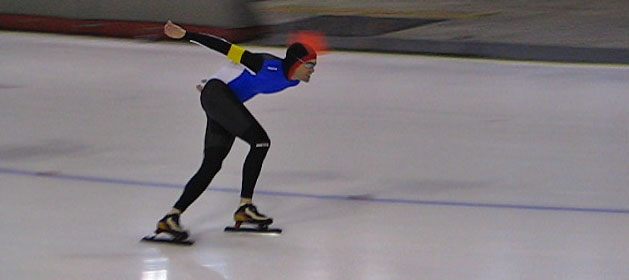 Pat Kelly set another masters world record with a very strong 37.75 500m. He was as smooth as a greased cruise missile on a bobsled run. His face is so relaxed here, 10 meters and 420 meters into his race.
I wish I had captured on film the wonderful ovation the Europeans all gave him, and everyone who set a record. They are true fans, as well as athletes.
Dimon Sports Athlete Jeff Bakal, flying like a reddish Canadian meteor.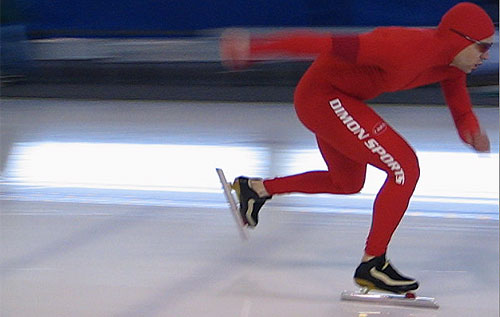 Ivar Njos skated several 37 second 500m races at sea level in Hamar this year, and was my odd's on favorite to pop out a 36 second 500 here in Calgary. He opened his 500m with a very strong 10.14, but slipped on the backstretch & ended up with a 38.3.
Speedskating requires a blend of propreceptive technique and a fit body to apply it. Ivar Njos has both, and like many of the Euros, has no inhibitions about changing right in front of everyone.
It does not bug me, but I still do a repressed American double take when I see it, especially when women do it (and I did ask Ivar for permission to publish this shot).
Steve Desotell suffered possibly the worst announcer mispronunciation of a name I have ever heard, but he ignored the distraction to skate very well in both his races. Canadian Ross Hanham's newsblog has been instrumental in developing North American Masters speedskating. Both are good men I respect tremendously, and its fun to watch friends skate hard.
On the left Greg Oly shows some awesome born in the USA sprint technique, on the right he skated a huge 3k PB, and was grinning ear to ear through the lactic haze of accomplishment.

As for how I raced, I lowered my own master's record in the 500m from a 37.47 to a 37.40, but the race itself was an awful start (10.5) & a very fast finish, maybe the best final corner I have ever skated, but it should have been much better…. I am much happier & more proud of my 5 second PB in the 3k (a 4:24), even though it was 8th place of the 17 men in my category. Overall I am in 3rd, but will probably fall a spot or two in today's 1500m and many, many spots in the 5,000m.
This is sooo much fun…
In an earlier post, I showed the skates of Norwegian John Arthur Olafson as he was training in Salt Lake. Here is the man, at top speed. He skated PB's in the 500m and 3k, and is solidly in the lead of the 30 competitors in the Men's 45-59.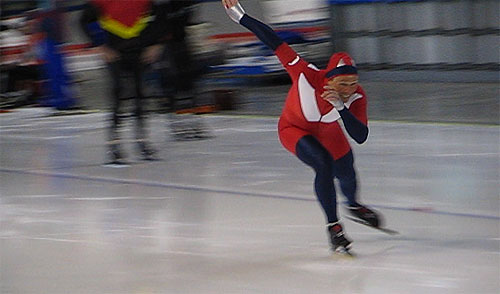 Brian Boudreau had some terrible luck in the 500m, he false started twice and was DQ-ed. He has trained incredibly hard for this event, and was devastated. But he is a champion in soul, and some odd mechanism of fate paired him with the best Dutch Skater, Jan Duif, for the 3k.
What resulted was one of the most incredible races I have ever personally witnessed. Both men started suicidally fast & attacked every turn all out. The lead changed hands every lap & the lap times were crazy fast; whoever was going to win this race would be the new masters record holder.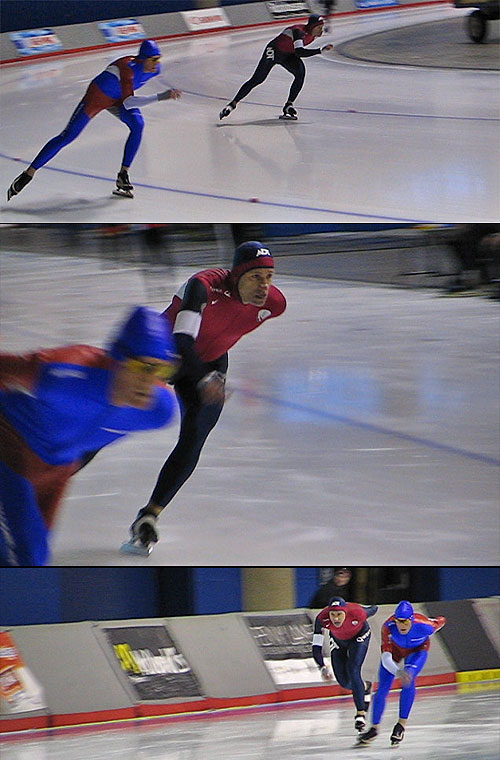 Brian is the one who told me about the "Pain Cave", and he was incredibly deep in it today.
At the bell for the last lap, both men cracked & it was pure guts & glory all the way to the finish, Jan just had a little more than Brian in the final turn. They both skated over 9 seconds faster than the previous 3k masters world record, and for Brian, it was huge 10 second personal best, Jan went 4:03.19 and Brian 4:05.10 (!!!!!)
Incredible!!! and two men who did not know each other before today are now friends. This is Masters racing.


Filed under: RACE DAY, on the road